The Very Best Books for 1-Year-Olds
They're not reading on their own yet, but the sooner you start reading to your little one, the better. From classics to newer titles, these books won't let you down.
by Lilian Ogbuefi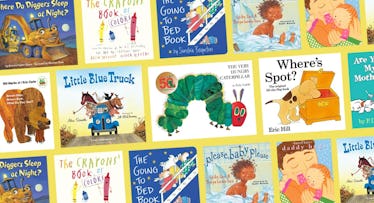 When you're in the market for the best books for 1-year-olds, there's nothing worse than rushing through the library, grabbing random board books and hoping you've stumbled upon something worthwhile. The virtues of reading to kids of any age are well established — but how do you find the best books for 1-year-olds? You don't want to have to depend on algorithms from Amazon or just hope that friends and family members will stock your shelves with great books as 1st birthday gifts.
This specially curated list of books for 1-year-olds includes classics that have entertained the littlest kids for decades as well as some new titles worth checking out. Because even the youngest kids have strong opinions about books, and finding a story that your baby loves and responds to is profound and gratifying — even if you do risk going slowly insane as your 1-year-old demands the book be read over and over and over again. But when you find a truly great book for your 1-year-old, even the 200th reading is worth it, considering the laughing and learning done along the way.
Dad Tip: Email yourself a link to this page and then pull it up next time you're in the children's section of the library or bookstore.
RELATED: The Best Books for 2-Year-Olds
Brown Bear Brown Bear, What Do You See? by Bill Martin Jr. and Eric Carle
Are You My Mother? by P.D. Eastman
Where Do Diggers Sleep at Night? by Brianna Caplan Sayres
Crayon's Book of Colors by Drew Dewalt and Oliver Jeffers
Livre des Bruits by Soledad Bravi
Little Blue Truck by Alice Schertle and Jill McElmurry
The Very Hungry Caterpillar by Eric Carle
Daddy Hugs by Karen Katz
Where's Spot? by Eric Hill
The Going to Bed Book by Sandra Boyton
Every product on Fatherly is independently selected by our editors, writers, and experts. If you click a link on our site and buy something, we may earn an affiliate commission.
This article was originally published on