The Best Animated Kids Movies About War
These animated kids movies depict the horrors of war in ways that children can comprehend.
by Luis Paez-Pumar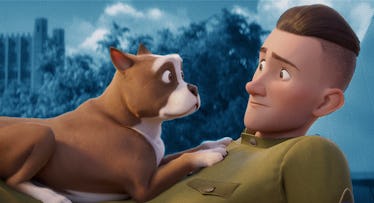 Fun Academy
Sergeant Stubby is considered the most decorated canine in American military history. A stray dog rescued on the streets, he fought alongside the 102nd Infantry Regiment and was promoted to sergeant during his 18th months of active duty. He's credited with saving his comrades on multiple occasions and was, by all accounts, a very good boy. This week sees the release of Sgt. Stubby: An American Hero, which is based on the titular Boston Terrier's story. The film aims to portray his tale for a new generation of kids that may not be well-versed in the so-called "War to End All Wars."
RELATED: The Best Kids' Movies Adults Will Enjoy
And it succeeds. Not only is Sgt. Stubby receiving rave early reviews, but it's also joining a small but proud history of animated movies that teach kids about the horrors of war in a way that they can understand. So, in its honor, we wanted to wax poetic about other animated films that do the same. While not every animated war movie hits the same age range, or the same topics, one thing that unites the best ones is that they treat the subject of war with respect, while also making it palatable for kids in a way that live action films can't.
Here are three animated war movies for kids ranging from elementary school age through teen years.
The Iron Giant (Kids Ages 6 and up)
To understand the more abstract topic of war, younger kids need to center on an adventure story. Enter 1999's The Iron Giant, one of the best children's films of all time. The film sees the paranoia of the Cold War brought to a personal level with the titular robot's fight to be accepted in a society that was ready to jump at any perceived threat. The movie tells the tale of the Giant and his human friend, Hogarth, who attempts to keep his presence a secret while also teaching him about life and death.
The Iron Giant can impart a handful of lessons – friendship, the power of self-will – but the way that it juxtaposes the Giant's inherent pacifism with the military-industrial complex that created his weapons systems is its legacy. It may not be clear to a child that the Giant is a stand-in for the ever-escalating arms race between the U.S. and the Soviet Union, but it does open up the opportunity to talk about the history of armed conflict, particularly that of the 20th century, which (more than ever before) relied on subterfuge and strategical strikes over the more pragmatic horrors of the World Wars.
The Wind Rises (Kids Ages 10 and up)
As a child gets older, their ability to understand war through the lens of the combat itself increases. The Wind Rises is a great fit for this period. The final film of famed anime director Hayao Miyazaki, it might also be his most beautiful. Loosely based on real Japanese engineer Jiro Horikoshi, creator of the zero bomber used by Japan in World War II, the film intertwines the lead up to the country's involvement in the war with the personal story of Jiro's ambitions and love of his future wife, Naoko, who dies of tuberculosis.
It's not a war movie about war, but rather about those who, for whatever reason, are caught in the riptide of it and who try to swim out with some of their grace intact. Jiro's dream of creating airplanes – born out of both his love of flight and his inability to be a pilot due to nearsightedness – nonetheless leads to the creation of one of the most infamous weapons of all time.
Good intentions are met with sour endings, but the movie never casts judgment one way or another; the final scene, after Japan's defeat in World War II, is a contemplation on a life lived in pursuit of beauty, thwarted by war. It's not the most straightforward movie to teach a child about war, but it might be the best for teaching them the cost of it, and what good men and women give up in the name of battle.
Persepolis (Kids Ages 15 and up)
Of course, once they reach their teen years, children are able to understand the brutality and complexities of war and violence to a higher degree. This is after wars are introduced to them in history textbooks, and around the time when they begin to watch PG-13 movies on their own.
Persepolis is one of the best options. A thrilling, touching coming-of-age story about Marji, a girl who grows up around the time of the Iranian Revolution of 1978 and 1979, it was written and directed by the real-life Marji, Marjane Satrapi.
Like the 2018 Oscar-nominated The Breadwinner, Persepolis is less about the day-to-day horrors of war and more about what happens at a time of violent political upheaval. Marji witnesses the execution of her rebelling uncle, an exodus of refugees from a brutal new regime, and the authoritarian rule that comes with the Iran-Iraq war. It's an unflinching look at a more modern style of military violence; rather than all-out war, the battles of Persepolis are fought on the streets of Tehran, and in the philosophical and political differences between the common people and the government. Still, its playful animation style juxtaposes this just enough to make it palatable for kids.
ALSO: The Best Movies for Kids Who Love Dinosaurs
What all of these movies have in common, and why they are so valuable, is that they don't talk down to children. Instead, they tweak their messages and themes to be more easily understood by certain age ranges. In doing so, they are valuable pieces of art that allow parents to discuss war as a concept and as a reality of the world. They take something that is inherently abstract to a child in the United States and turn it into something personal that can illustrate the effects of war proper, if not the battles.
While Sgt. Stubby: An American Hero is meant for the youngest of audiences – or those who love military trivia and awesome dogs– it can be an introduction in World War I for an audience that does not particularly have many other options. As kids grow past that range and into ages where they can understand more complex stories these films continue their education.