The 8 Best Amazon Original Shows To Stream For Your Kids
by Alison Zeidman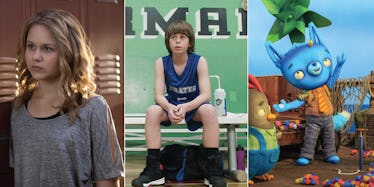 Netflix isn't the only streaming service that offers original programming in this digital marketplace called the Internet. If you have an Amazon Prime account, pretty much any movie or show you could ever want is available faster than you can say "One-Click Shipping." That includes Amazon Originals, and Amazon Originals includes a bunch of great family-friendly programming. These are shows steeped in STEM lessons, magical adventures, and quippy tweens. Hopefully they learn from them just as much as you do from Transparent. (Who knew Jeffrey Tambor had that kind of range?)
Gortimer Gibbons: Life On Normal Street
Gortimer and his 2 long-time pals all live on the same seemingly-average street (so the block really is aptly named). But their tweenage wasteland gets way more interesting once they start hanging out with the eccentric old lady on the block, and some weirdness and magic starts going down.
Common Sense's Take: The review says there are strong messages about friendship, family, and respect. So they're kind of like the kids in Stranger Things, but without the 80s swearing (you wasteoid!).
Ages: 7+
Annedroids
The robotics and computer programming genius is played by a girl for a change, because there are enough Mr. Robots in the world. In this live action show, Anne goes around building androids in her dad's junkyard. And because everyone has seen the Terminator, they hide their crazy experiments from the parents. Just note for your kid that building a sentient robot in the basement isn't as easy as Anne makes it look.
Common Sense's Take: They suggest using the opportunity for your kid to come up with their own science projects and hypotheses to test instead. But with non-robotic supervision.
Ages: 5+
Just Add Magic
Based on Cindy Callaghan's book series of the same title, Just Add Magic is a kid-friendly drama starring 3 BFFs with a recipe book that's basically The Joy of Cooking for light witchcraft. Of course the magic is focused on stuff like getting little brothers to be quiet and boys to talk to you — so not much from the Necronomicon.
Common Sense's Take: The only thing they advise is talking to your kid about the pros and cons of practicing the baking dark arts unsupervised.
Ages: 6+
Tumble Leaf
It's an Emmy-winning, stop-motion animation program for preschoolers that focuses on how stuff works. A blue Fox named Fig and his caterpillar friend Stick guide your kid through basic science concepts and answer their biggest how-the-world-works questions. Which, mercifully, don't get really difficult until puberty.
Common Sense's Take: They're big fans of how the characters illustrate values like kindness, teamwork, and fairness. Better on TV than trying to wrangle the squirrels in the backyard for their scientific queries.
Ages: 4+
Wishenpoof!
Bianca, the animated star of Wishenpoof!, is like Teen Witch, but if the lead character was way younger and much less self-involved. Bianca just likes to go around doing nice things for people with her powers. Your kid doesn't dabble in supernatural chicanery, but the show might make them want to start using the mystical power of politeness.
Common Sense's Take: The show isn't just an entertaining story about a nice little girl; it makes sure the "do nice stuff for people" message sinks in whether or not your kid has their own magic wish-granting powers.
Ages: 4+
Creative Galaxy
Arty is the Bob Ross of aliens, taking children across the universe to learn about different art techniques and tools to solve any problem. Between stories, real-live kids show up to demo their skills in art-making segments Bonus: Comedian and real-life supermom Samantha Bee voices Arty's architect mother, but with fewer monologues about Trump.
Common Sense's Take: The crafting will most likely lead to your own kids picking up the glitter and construction paper. Just be advised: That stuff gets everywhere.
Ages: 4+
The Kicks
In between winning gold medals and World Cups, U.S. Women's Soccer player Alex Morgan somehow found the time to write book. Which is how her series, The Kicks, became a TV show. It follows Devin, a tween soccer star trying to turn her new team around, all while dribbling through the drama of middle school life. No running in the halls!
Common Sense's Take: The show teaches kids about teamwork, perseverance, and most importantly, that winning isn't everything. The U.S. Men's team probably watches it on the long plane rides home.
Ages: 6+
Stinky And Dirty
Construction vehicles aren't perfect. They're loud. They smell bad. They cause a 3-mile traffic jam even though it doesn't appear that anyone is doing any construction. Stinky & Dirty tells the story of 2 such vehicles, based on the books by Jim and Kate McMullan, who unstick themselves from jams through tenacious trial and error. The show also guest stars Whoopi Goldberg, Jane Lynch, Joan Cusack, and Andy Richter, causing Amazon Prime parents across the country to say, "Wait, I know that voice."
Nothing from Common Sense yet, but author and educator Jessica Lahey says that S&D's emphasis is on being okay with messing up, but following through with fixing it. If a garbage truck can't be okay with a mess, what vehicle can?
This article was originally published on