The 5 Best All-Inclusive Beach Resorts For Your Family's Winter Getaway
From waterslides to swim-up soda bars, kid-friendly resorts make going on vacation easy.
by Dave Baldwin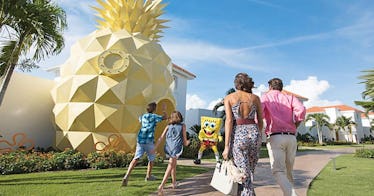 Some families like to escape the cold. Others like to escape their relatives at Christmas. Whatever the reason, there's nothing quite like spending a winter vacation on a tropical beach. And one of the easiest ways to do that when you have kids is to stay at an all-inclusive resort, where the only thing you have to worry about is not missing your flight there.
When most people think of all-inclusive resorts, they think of free food and booze ⏤ and that's about it. All inclusive resorts targeted toward kids and families, however, take the experience to another level. Sure, unlimited food and drink are part of the deal, but it's more about entertaining and occupying kids ⏤ both with and without mom and dad. From water parks and swim-up soda bars to organized arts and breakfast with their favorite TV characters, there's usually a non-stop lineup of activities to ensure everybody is having a good time. Even better, there's almost always a complimentary club where you can drop kids off, as well as onsite nannies or babysitting if parents want to explore on their own.
But which all-inclusive resorts in Florida, Mexico, and the Caribbean are right for your next family vacation? Here are five of the most kid-friendly, right down to one with a SpongeBob Squarepants water park.
Nickelodeon Hotels & Resorts Punta Cana
Punta Cana, Dominican RepublicRate per night: From $546 per night for two adults and one child. It's hard to get more kid-friendly than a resort where you can eat breakfast with the Teenage Mutant Ninja Turtles or spend the day with SpongeBob SquarePants and Dora the Explorer. But that's exactly what this 208-room Nickelodeon-themed playground in the Dominican Republic offers guests of all ages. In addition to popular Nickelodeon characters roaming the grounds, there's a supervised kids club with activities (Spanish lessons, cooking classes, etc.) for ages 4- to 12-years-old, daily "mass sliming" events, suites with wrap-around pools, and a sports hub (tennis, archery, soccer, and more) for young athletes. Best amenity, though, has to be the massive Aqua Nick water park with slides, splash pads, and a lazy river, all inspired by SpongeBob's Glove World amusement park.
Beaches Turks & Caicos
Providenciales, Turks & CaicosRate per night: From $317 per adult per night, add $38 per child per night. There are three Beaches Resorts in the Caribbean ⏤ two in Jamaica and one in Turks & Caicos ⏤ but all are equally geared toward families and kids. Case in point: The resort has a deal with Sesame Street so kids can meet and interact with the characters ⏤ including story time with Elmo, bird watching with Big Bird, and baking with Cookie Monster. There's a full kids camp, a toddler program, and certified nannies for infants, not to mention tons of activities for tweens and teens. The Turks & Caicos location boasts a ridiculous 21 restaurants (so even the pickiest of eaters can find dinner), a tropical Choo Choo Train that tours the grounds, and a Pirates Island Waterpark complete with pools, waterslides, swim-up soda bars, and even a surf simulator.
Franklyn D. Resort
St. Ann, JamaicaRate per night: From $325 per adult per night, add $50 per child (age 6-15); kids under 6-years-old are free. Unlimited food and booze is one thing, but what about a free babysitter for your entire vacation? That's exactly what Jamaica's Franklyn D. Resort offers families who visit: a CPR-trained nanny for eight hours a day to help with housekeeping and childcare. Or if you'd rather have the kids take snorkeling lessons, cooking classes, fish, or learn to tie-dye a t-shirt, they can do that too at the Yellow Bird Kids Club or as part of the Teens Program. The property boasts 78 suites, four restaurants (plus a kids buffet), and a 100-foot water slide, not to mention a spa and outdoor gym.
Sandos Caracol Eco Resort
Playa del Carmen, Mexico
Rate per night: From $232 per adult per night (includes one child age 2-12). Not only is the Sandos Characol located in a lush jungle on the beach ⏤ which means over 40 eco activities like snorkeling in a cenote, caring for rescued wildlife, and kayaking through a mango forest are all included in your stay ⏤ but there's also an epic water park with 29 slides smack dab in the middle of the resort. The kids club stays open late and offers organized activities for children 4- to 12-years-old, there are nightly shows for adults, and on-property dining includes three buffets, as well as a Teppanyaki restaurant where kids will be wowed by chefs flipping meat across the table.
Club Med Sandpiper Bay
Port St. Lucie, FloridaRate per night: From $151 per adult (based on a 7-night stay), add $96 per child over 5 (kids under 4-years-old stay free). Club Med is the world's original all-inclusive resort ⏤ having first opened on the island of Majorca in 1950 ⏤ and Sandpiper Bay is the chain's only US location. Targeted toward families, and athletic ones at that, the resort (which was renovated in 2011) focuses heavily on sports and advertises state-of-the-art equipment and top professional instructors ⏤ from golf, tennis, and volleyball, to yoga, sailing, and water skiing. Even better, there's a kids club for ages 4- to 17-year-old complete with tennis academy, circus school, and a flying trapeze.