The Deaths And Many Births of Your Favorite Ice Cream Flavors
It's a long and winding road from flavor idea to the freezer aisle.
by Aaron Stern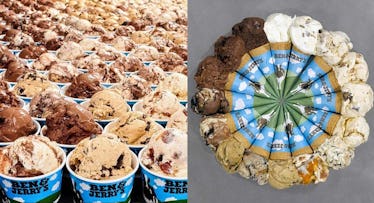 Eric Fredette's coworkers call him "The Angry Chef." It's a culinary nickname you'd expect from the firebrand behind a Michelin-rated gastropub, or perhaps a grizzled line cook at Applebee's. But not from a guy whose salaried job it is to whip up the most fanciful, delicious ice cream flavors he can imagine.
"I'm a little passionate about food and what I do, and, you know, sometimes can get a little uppity," Fredette says with a laugh.
For 21 years Fredette has served as a Flavor Guru at Ben & Jerry's, where he leads the Vermont chain's crack team of chefs and food scientists — aka, fellow Flavor Gurus — in developing the Phish Foods, Cherry Garcias, and Chunky Monkeys of the world. And where he is the ultimate decider.
"It's all about my taste buds and whether I think the taste, texture, color, etcetera, is right," he says. "And is it unique enough? Does it say Ben & Jerry's? Edgy but not too edgy. You marry something familiar with something edgy, and people are more willing to pull it off the shelf."
Welcome to Flavor Country
There are between 50 and 70 flavors of Ben & Jerry's ice cream today. That number varies based on seasonal flavors, European flavors, and flavors available only at physical 'scoop' franchises, such as the coconut seven layer bar. A full 300 more flavors have departed the mortal realm, 40 of which are memorialized in a literal graveyard, complete with headstones and epitaphs for these fan favorites, at the company's factory in Waterbury, VT.
"There are many that predate me that I never even got to try because they passed before I was hired 20 years ago," Fredette says.
Ben & Jerry flavors are occasionally brought back from the dead in limited batches, such as White Russian, whose heyday was '86-'96, but enjoyed a brief afterlife two years ago.
But before a flavor can get such an honorary send-off it must first run the gauntlet from light bulb above a professional ice cream enthusiast's head, through rigorous tasting and arduous testing, all the way to mass production and, ideally, years of delicious consumption.
And that's no easy path: The road to the Ben & Jerry's ice cream graveyard is paved with half-baked dairy-based confections.
The Fun Part
To find his ice cream inspiration, Fredette reads food blogs and magazines obsessively and scours the web to find restaurant openings. Then, studies the menus of the country's newest and brightest chefs. He's not just looking for desserts, either — he's looking for trends in the country's culinary preferences, sweet and salty alike.
"They're pretty cutting edge," Fredette says of these chefs. "[They're] putting out edgy, awesome stuff. And that's what we want to do."
Then comes the real drudgery, as Fredette and his colleagues set out periodically across the U.S. to regions rich with new and diverse types of food. They spend those days hopping from farmer's markets to restaurants too, of course, various and multiple dessert shops each day.
The Flavor Gurus announce themselves at each restaurant and ice cream shop, just so everything's on the up and up.
"I don't want to go in and not be honest with them," Fredette says. That honesty comes with a price. "In restaurants they usually send out more desserts than you can possibly eat once they know who you are, because the pastry chef usually wants to show you all his tricks and show you everything he has done in the past year. Sometimes it's a little crazy."
Not shocking, then, that Fredette gained 12 pounds in ten days the first time he went on one of these expeditions. Since then he's tried to walk from stop-to-stop on these trips.
The Hard Part (Which Still Seems Pretty Fun)
Whether it's a stroke of genius sitting at home one night or the byproduct of research and collective brainstorming, once an ice cream idea has been put to paper, the product development begins with a trip to the local natural food store for supplies.
Next, time to head to the R&D lab — more fancy kitchen than beaker-packed science lab — to whip up a small batch for a relatively informal tasting among six highly trained food professionals. Three of the six Flavor Gurus come from culinary backgrounds, like Fredette. They're concerned with flavor, texture, and color.
"All the things that make a great dish in a restaurant," says Fredette.
The other three Flavor Gurus come from scientific backgrounds. They're the ones who tell Fredette that something may taste delicious, but that over time its molecular composition won't hold up — too much sugar, too acidic, and so on.
"It takes both to actually put out something that will stay on the shelf for 18 months, which is our shelf life, and be as good – or nearly as good – as it was the day that we made it," Fredette says. "Ice cream is never as good as [when] it comes out of the freezer."
It can take up to 20 iterations to gain the esteem of this crew, and each pass is meticulously recorded, ingredient by ingredient, milliliter by milliliter, in a log book so it can be duplicated or precisely tweaked.
Once a flavor meets approval with the rest of the Flavor Gurus it is sent to mass-production testing, where anywhere from 600 to 1,800 gallons of the new recipe are expelled into cups at 200 pints per minute.
"Things are moving pretty quickly, so if you have that's something soft or fragile, at that speed, sometimes they break up and you get smaller pieces than you actually want," Fredette says. Cake pieces, caramel cups, and caramel swirls are particularly delicate, and often require going back to the lab to adjust viscosities and densities to make sure it all comes together.
Once the line testing is completed, the new flavors are storage- and temperature-tested in an environmental chamber that fluctuates from -10 degrees to 20 degrees, up and down, back and forth. This goes on for two weeks, mimicking the 18-month stresses over the shelf life of a typical pint.
Which brings us to those flavors that never saw the light of the freezer aisle in the grocery store.
Losers and Winners
This is the sad part of the story: Research & development inherently involves failure. Flavors are subjective and what tastes good to some doesn't taste good to others. That's why Fredette's multiple rosemary-based flavors haven't made it out of the lab. Ditto for his recipe based on curried milk chocolate cups filled with coconut cream, not to mention his cinnamon-raisin-toast concoction.
"I thought it was pretty cool," he says. "Couldn't get marketing to bite."
And then science gets in the way, too, which is why flavors like Fredette's peanuts & popcorn concept never made it to shelves. It was great off the testing line, but bombed the storage test.
"As it turns out, you can not put enough white chocolate on caramel corn to protect it from moisture migration that happens in ice cream," Fredette says. "And soggy, wet popcorn is not delicious."
Fredette's favorite that he dreamed up that did make it? Bourbon Pecan Pie, which, it's worth noting, is available only in Texas.
Those that do make it need names, of course. Some flavors come straight from the lab, the brainchildren of their culinary creators. Fredette's own Dublin Mudslide is one example. But most of the crazy names come from the marketing team, who have the arduous task of periodically being summoned to the Chubby Hubby room to taste new flavors of ice cream and try to name them. No doubt at some point they must just start declining those calendar invites and telling people they have scheduling conflicts during those times.
"As you can tell from the shelf we get some pretty clever stuff sometimes," Fredette says.
Fredette wouldn't say what new flavors he's cooking up now. He guards that information from even those closest to him.
"I don't even tell my wife what I'm working on," Fredette says. "She can't be trusted."