'Bel Air': Release Date, Trailer, and Cast for the Daring 'Fresh Prince' Reboot
Not your father's Fresh Prince — wait, how old are we?
by Rebecca Jane Stokes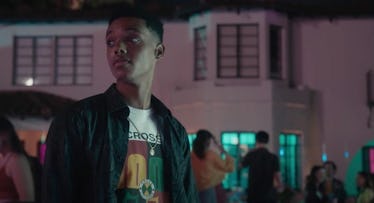 Credit: Peacock
Bel-Air — the highly anticipated Fresh Prince reboot — is coming to Peacock on February 13, with a dramatic and more nuanced take on Will Smith's star-making show about a West Philadelphia native transplanted to live with his wealthy California relations. While it's easy to be skeptical about a reboot, Bel-Air, helmed by Morgan Cooper, makes skepticism challenging.
The germ of the idea hit YoutTube in the form of Cooper's uber-popular fan film of the same name. The film was popular enough it made its way to the real Will Smith, and the rest, as they say, is history. The TV series promises more of what Cooper promised: an examination of class and racial biases with some of the same lush swagger the original series offered.
When Is Bel-Air's Release Date?
Bel-Air will be released on February 13th, 2022, the same day as the Superbowl. The first three episodes will be available on the release date, with new episodes premiering weekly after that.
Who Is in Bel-Air Cast?
Jabari Banks was the first actor cast in this gritty reboot. Banks stars as Will Smith, the proverbial Fresh Prince, himself. He is joined by a stellar cast of vets and newcomers.
Adrian Holmes as Phillip Banks
Cassandra Freeman as Vivian Banks
Olly Sholotan as Carlton Banks
Coco Jones as Hilary Banks
Akira Akbar as Ashley Banks
Jimmy Akingbola as Geoffrey
Jordan L. Jones as Jazz
Simone Joy Jones as Lisa
Is There a Bel-Air Trailer?
Will Smith himself released the Bel-Air trailer on January 10th via YouTube. "3 years ago, my guy Morgan Cooper uploaded his fan trailer to YouTube, showing how he envisioned the Fresh Prince as a drama. Now, here is the first full look at his retelling of the story that's always been so close to my heart," Smith wrote.
What Is the Plot of Bel-Air?
Fans of the original series The Fresh Prince will recognize the plot of Bel-Air: Will, a talented basketball player from West Philadelphia, is sent to live with his wealthy relations in California after a scuffle on the basketball court got ugly.
Here's where things get a little different from the original series: Will's troubles aren't over. The man he crossed in West Philly is still after him. If that weren't trouble enough, Will has to acclimate to the life of the elite and this time there's no laugh-track. In its new incarnation, Bel-Air promises to focus more on the real conflicts and struggles that such a fish out of water story offers.
Where Can I Watch Bel-Air?
Bel-Air will be available to stream only on Peacock on February 13, 2022.
Is Bel-Air Renewed for Season 2?
Bel-Air was sold to Peacock as a 2-season deal, so yes, while Season 1 isn't here yet, Season 2 is a given. "We have just officially closed the deal with Peacock with an unprecedented two-season-order from a pitch," Will Smith said about the deal. "I've been in this business for thirty years and that does not happen. They ordered two full seasons of Bel-Air based on the quality of the pitch and the work that you guys have done. So I want to say congratulations. I am hyped."
This article was originally published on