Anthony Mackie Talks Voting, Fatherhood, and That "Humbling" Captain America Shield
The Marvel star talks about Black Lives Matter and why he tried to get co-star Sebastian Stan to move in with him.
by Donna Freydkin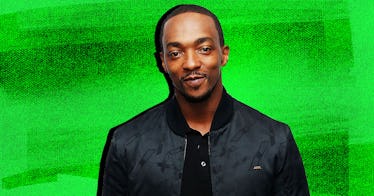 Back in middle school in Louisiana, Anthony Mackie — whom you know as the first Black Captain America — ran for student body president. To serve as his own best hype man, he loaded up on candy to sweeten the whole voting deal. "I spent all night making these 'Vote for Anthony' flyers with blow pops. I gave out hundreds of blow pops. That's what you have to do," he says.
Did he win? "Of course not! When I was giving out blow pops, the person I was running against was giving out SweeTARTS, blow pops, and tootsie rolls. I didn't have enough. That was my big problem. It was a valuable lesson."
Now, the Juilliard grad and father of four is, in his own parlance, putting his money where his mouth is by launching a campaign pushing Black men to register to vote. With less than 100 days until the election, Mackie isn't just focused on getting Trump to vacate the White House, but on the premise that all politics is local. "The presidential election is like going to prom. You can go do more by voting locally. If you're not happy with the way your DA handles things, if you're not happy with your sheriff, vote them out. We want to get people excited about voting again," he says.
Recently, Mackie talked to Fatherly about getting kids excited about the political process, what he digs most about fatherhood, his relationship with The Falcon and the Winter Solider co-star, Sebastian Stan, and why it felt "humbling" to hold that legendary Marvel shield.
You're in New Orleans, right? How's everything over there?
Yes, I am. It's actually great. It's been pretty quiet. People are taking it easy, staying at home.
Your I am a Man campaign aims to register Black men to vote. What inspired you to do launch the initiative?
I was talking with a group of friends. I realized that after the big rally to get Obama into office, everything died down. The number of people voting in Obama's second election went down drastically. This last election [2016], the numbers were abysmal. I was trying to figure out something to spark interest. It's easy to protest or do something when you have to utilize your thumbs. But to be an active revolutionary, an active protester, you have to take responsibility. The response has been huge. It's a voter registration drive.
You have four boys. Was fatherhood the impetus for your activism?
Definitely. I've always been cognizant of the world I want to leave to my kids. My kids' circle of friends is very diverse. My kids' schools are very diverse. But say they're invited to one of their classmates' birthday parties, they're always the only Black kid. That bothers me and that frustrates me. We're teaching our kids the same insecurities we were taught. I try to impress on my kids that the world is their playground and that they should respect people as human beings until they're shown otherwise.
Slowly, slowly, things seem to be changing for the better.
If you look at it, the same people who spit in Jackie Robinson's face, those people are still alive. The same people, when they integrated public schools and the people who were screaming and yelling at the kids, those people are still alive. What's great and what makes me so happy is, when you look at kids today, that level of ignorance and aggression towards members of the opposite sex or another race, that's truly something that they learn. We're really in the first generation of integrated schools. They spend every day with kids of opposite races.
How do you impress upon your kids the importance of being active in their community, and the importance of voting, when honestly, voting isn't a sexy topic.
My kids — we talk about everything. I treat them with respect. I'm very stern with them. I let them know their rights and their decisions have consequences, good or bad. When I talk to them about voting, I tell them we the people have all the power. We're the ones who change what we want our society to be. I try to give my kids information. My oldest is 11. He gets it. He reads. I talk to him about the history of voting, when Black people, when women weren't allowed to vote.
I come from a family of strong Black women. The women I grew up with were always the backbone of our family. The mother of our children is as well. The idea of there being a time when women weren't able to vote, to him that's crazy. It's about your mother. It's about your aunts. It's about your nieces. You're voting on their behalf. He don't want anything to happen to his mom. His mom is the best thing ever. Anything that goes against his mom goes against him.
What's been the most revelatory part of fatherhood for you?
I have to say, the relationship that my boys have with each other. It's really endearing. I call my oldest son Mr. All-Inclusive. It's more important to him that you feel appreciated and welcome. The most rewarding part is seeing them grow up to be good human beings, really nice kids. I tell them, just don't be an asshole. The ironic thing is, not one of them questioned me about what an asshole was. Every single one of them was like, 'Got it.'
Switching lanes now, how did it feel to be handed the Captain America shield?
It was humbling, just simply because of my background and where I came from. It's even more humbling considering where we are as a country. Marvel has done a lot as far as actors in front of the camera. Having Captain America pass the shield to a Black guy. Every studio has to do more about ushering more people into the business.
You recently put Marvel on blast for not having enough people of color working on their films. What prompted you to speak out?
I'll say this: I don't think what's happening is a racism problem. I think it's an unawareness problem. With Marvel, I really think with most companies, they feel like they're doing what they should be doing. In no way, shape, or form, is it enough. My big thing is, put your money where your mouth is. You can't cast a Black dude as one of your main superheroes and not expect him to have that conversation. It's just in my DNA to have that conversation. It's a huge opportunity for me to be part of the Marvel universe so it's my job to make sure the Marvel universe is as good as it can be.
Anyone who's big in our industry, if they have a party at their house, their party is 98 percent white. If you go to their office and their office is 98 percent white, that reflects their reality.
What does it feel like when you're in a meeting and you're the only Black person?
The blessing about that is, I can go into those meetings and say, "The next time I go into this meeting, I don't want to be the only Black person here." When I did Altered Carbon, when they made me the offer, I said it's very important to me that at least one of the directors is female and it's very important to me that at least one of the directors is Black.
What's your relationship like with Bucky Barnes, played by Sebastian Stan, in The Falcon and the Winter Soldier?
Sebastian — we couldn't be further away from the type of people we are. We're polar opposites and because of that, we get along extremely well. Sebastian is smart, he's cerebral. My job every day is to get him out of his head. He's always thinking. Our relationship is great. I'm spontaneous. He wants to slow down and think.
The main reason I ask is because I was so impressed that when everyone with means fled New York during the pandemic, he stayed and refused to decamp for a fancy beach house.
I talked to him. He was sending me pictures and videos. I can't believe he stayed. I told him, "Dude, come to New Orleans." He stuck it out. He said no, he was staying.
How do you feel about the future, given what's happening in the news today?
In the wake of the past five months, the change we've seen is staggering. It's humbling. There's been a passing of the torch to the younger generation. It's beautiful to see. They've taken this opportunity to have their voice heard. These are conversations you need to have with your kids.
The Falcon and the Winter Soldier was originally slated to hit Disney+ in August 2020. As of this writing, there is no new official release date.
This article was originally published on