Anne Hathaway's Son Thinks She Looks Like Batman
The star of 'The Witches' talks about a very 'weird' year for her. And all of us.
by Donna Freydkin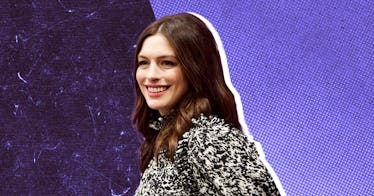 GETTY
It's been one hell of a strange 10 months, to say the least. It's why Anne Hathaway finds herself on day two of rapid-fire video interviews promoting the HBO Max fantasy The Witches. With two kids under four at home, Hathaway is presumably used to being asked the same things over and over and over again, ad nauseam, and she remains a good sport about it. "What hasn't been weird this year? These suddenly feel very normal," she muses of a Groundhog Day's worth of Zoom sessions. The Oscar winner and former Catwoman talks to Fatherly about playing the child-hating Grand High Witch, and what her older son Jonathan, 4, really thinks she does for a living.
Between playing a witch and being Catwoman, are you prepared for the moment your kids realize their mom is pretty much a badass?
Thank you very much for that assessment of what they might one day think of me but I don't think it's going to go that way. My son saw a picture of me as Catwoman. He said, 'Mommy is that you?' I said, 'Who do I look like?' He goes, 'You look like Batman.' My son currently thinks I'm a librarian.
Say what?
I was recently leaving for a job. He looks at me and said, 'Mommy, you're going to work at a library?' I am technically a storyteller.
Talking to Stanley Tucci today, he mentioned that one of the highlights of filming this was getting to work with you again after The Devil Wears Prada.
I'm so happy he said that because I feel the same way. It's wonderful being friends with someone whose work you admire so much. Every day we would giggle. This was a swing and a stretch of a role for me. I felt very lucky I had an old friend in my corner.
Not to mention while being secretly pregnant.
Any day I had a hormonal spike, it worked to my advantage. At that time it was a low-key pregnancy. Jack was a good little pal.
Which of your movies will you show your kids first?
They've seen Rio but they haven't noticed it was my voice. A lot of my nieces and nephews have seen the Princess Diaries. What do you think?
I think they need to see you as Catwoman. What's your memory of playing her?
It's one of the best experiences I probably ever will have. Chris Nolan is the most inspiring director. And just to know the heights that have been achieved in that role with other actresses — I couldn't have been more motivated and more grateful. I couldn't have had a better time. It's one of my all time great happy memories. Have you seen what Zoe Kravitz is up to? I thought she looked amazing. We can have multiples.
The Witches is a Roald Dahl adaptation. What book can you repeatedly read to your own kids without losing your mind?
My child is four so I'm there. I love — what is it called? I'd Know You Anywhere, My Love. I love love love that one. With Jonathan, he's really into Dr. Seuss. Green Eggs and Ham. Fox in Socks. I don't think I've gotten through that one without my tongue getting all tangled.
The Witches is streaming now on HBO Max.
This article was originally published on