Amy Schumer on Motherhood, Matt Damon, and Her New Cooking Show
She says it's going well, but her husband is still hiding the good knives.
by Donna Freydkin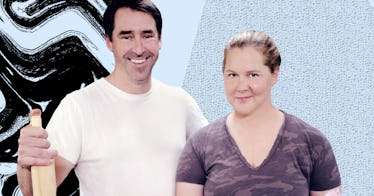 Food Network
For Amy Schumer, getting hitched to a chef was "like Snoop marrying weed." Weed's name? Chris Fischer. That would be the author of The Beetlebung Farm Cookbook, which won the 2016 James Beard Award for American Cooking and now Schumer's husband of two years. Perhaps predictably and maybe opportunistically and definitely joyfully, the two have joined forces on two major projects: The creation of human life and the creation of a new cooking show.
The kid's name is Gene and the Food Network show's name is Amy Schumer Learns to Cook. On the show, Schumer learns to cook while quarantined with her husband in roomy home outside of New York City. The whole thing feels half baked, but in a good way — like brownies made right or a family affair.
"We earnestly are trying to make a great show," says Schumer. "But it winds up being really funny."
That's mostly due to the unforced, quietly sardonic, and gently deadpan repartee between Schumer and Fischer. It's a glimpse into their relationship, seemingly as unfussy and unforced as the show itself. Their son, all of one-year-old, makes cameos while his nanny serves as cinematographer. The production values are nonexistent. Schumer wears a black hoodie. Fischer where's a white T-shirt. Ill-fitting aprons and adult dance-offs are clearly unscripted and often ungainly, yet undeniably sweet.
In one episode, Schumer stares thoughtfully at a treat. "This is kind of the ratio I would say of my breast to nipple," she says, adding chocolate dots to the tops of peanut butter cookies. "Well, the right one anyway." Fischer nonchalantly concurs.
In their first joint interview together, Schumer and Fischer talk to Fatherly about new parenthood, the surprising joys of being in quarantine, and why Matt Damon is always an inspiration.
Congrats on the show. It's such a pleasure to watch. It feels like a fun project and also maybe a meaningful one for your relationship. Has it shifted your dynamic as a couple at all?
Chris: I think the communication that we have developed throughout the show has helped the rest of our relationship. There's a respect for each other that wasn't there before.
Amy: That is both a joke and not a joke.
Chris: I try to hide all our really sharp knives. But, yeah, I do trust her more. She has been chipping in.
We've all been cooking a lot. That's exciting for some and not-so-much for others. Amy, are you getting more or less pleasure out of this than you would have expected? How does it feel?
Amy: I feel way more empowered. To feel like I can cook for myself — it came at a pretty perfect time. I was always pretty dependent on delivery. Getting home from a show at midnight and having to figure something out. To be able to make a dinner for your family, it's a really good feeling.
Unlike so many other performative, glossy, polished "reality" shows, this one actually feels like it takes place in this reality. Which is really nice.
Chris: I showed a friend of mine the first cut and they were like, 'You and Amy are really good actors.' But there's no intentional element to anything. One day we were taking a walk and I was like, 'Why don't I teach you how to cook.'
Amy: Chris came up with the name and that's exactly what the show is. For me, it was nerve wracking. Everything wasn't in my control, which was a little triggering. I was a little defensive at first, but once I realized it was just us being ourselves I trusted that we were doing the best we could. And he's the best cook I ever tasted…. which sounds disgusting.
Your son just turned one and you were very open about how brutal your pregnancy was. Now we're in the midst of a pandemic where you can't even do normal, fun stuff with your kids. How are you guys keeping it together?
Amy: Gene doesn't know what's going on yet. I really feel for my friends with kids at home right now and having to keep them calm when we're trying to keep ourselves calm.
For anyone who's had kids — the first year of your baby's life is this magical time. I was supposed to be working a lot. Right now, I would have been seeing Gene an hour a day. So to have this time — we really know to appreciate every second with him. We have the time right now to just be giving him all our focus.
Also, we have an amazing nanny. We have help. We're so grateful for that. We watch TV together every night. She's our friend and family. We love her and she loves Gene and tolerates us. We have a sweet scenario and we feel very lucky for our quarantine situation.
Amy, how do you feel when you see your husband as a dad?
Amy: I think it's hot. One time I saw this picture of Matt Damon wearing his daughter's backpack and I had to change my underwear; I thought that was so hot. They have such a beautiful bond, the two of them.
Chris: Matt Damon and his daughter?
Amy: No. You. Chris is so capable and kind and loving. He's just completely surpassed whatever dreams I had of him being a dad. Also he terrifies me. I'm such the nurturer and Chris is doing moves from the movie Kickboxer with him.
Chris: We're by the woods and there's a trail hike. There's a stream and you can't get over it. The other day Gene and I disappeared and Amy was home. She asked, 'Where did you go for so long?' I came back and I was covered in mud. Gene and I had built a bridge.
Amy: And I'm like, what the fuck does that mean? Are you kidding me? They go on these adventures and come back all dirty and I just have to close my eyes. I just want to carry him around all day on a silk pillow. And Chris is all into toughening him up.
Chris, most people know Amy from her standup, yet you get to see her as a mom.
Chris: She's extraordinarily loving and present. I'm very task-oriented with everything, which makes life kind of hard to rejoice in sometimes. Amy just stops and loves Gene and stares at him and reminds me to do the same.
I know you've both used your platform to promote causes that you care about and that feels critical right now. I wonder if there are specific organizations you'd want to call out for our readers.
Amy: I had a baby year ago so for me it's maternal health. Every Mother Counts, which is Christy Turlington's charity, we're doing a lot of work together. They help underprivileged women get midwives and doulas. Just to have someone advocate for them.
Chris: World Central Kitchen, which is making sure that the people on the front lines are being supported and well-fed and appreciated. Have you seen the press he's been doing? He's been so inspiring to everyone.
This article was originally published on