All Eight 'Harry Potter' Movies Are Coming to HBO
It's time for a marathon.
by Ben Marx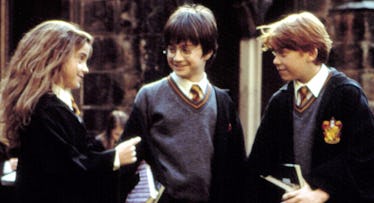 Warner Bros
Great news for those planning a New Year's Day Harry Potter marathon: all eight Harry Potter films are coming to HBO in 2018. Yep, all of them. Starting January 1, you can stream every film from Harry Potter and the Sorcerer's Stone to Harry Potter and the Deathly Hallows, Part 2 in one place.
The new eight titles join Fantastic Beasts and Where to Find Them, which is already available to watch on HBO, bringing the whole Harry Potter cinematic universe together just in time for a post-New Year's Eve recovery. Previously, the only way to relive the series was to buy the movies or wait for a marathon on Freeform, but now you'll be able to stream the whole thing on-demand and without commercials. It's a Muggle dream come true, whether you're a diehard fan trying to binge them all back-to-back, or if you're just looking for a more casual return to Hogwarts.
While you'll be able to stream the whole franchise through HBO GO, HBO NOW, and HBO On Demand, the network is also airing a live marathon of every film, starting with Harry Potter and the Sorcerer's Stone on January 1 at 9 a.m., and ending with Fantastic Beasts in the early morning of January 2. After that, HBO Family will air one film a night, starting January 2 at 8 p.m.