All The 90s Alternative Bands Who Now Rock Kids Music
Oh, so that's what Lisa Loeb has been up to.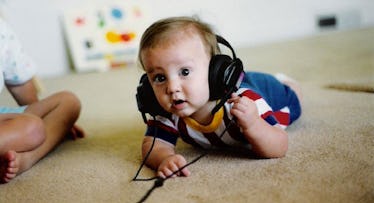 flickr / Samantha
All the bands that you saw at Woodstock 94? Those acts that once supplied the angsty tunes for kids who came up during the Clinton administration? Guess what? They're all parents now. So even though you told everyone at Warped Tour that your folks suck and not to trust anyone over 30 — 20 years later you're probably changing your tune. From Andre 3000, to The Verve Pipe (they sang "Freshmen," not "Bittersweet Symphony,") to Presidents Of The United States Of America, here are 7 artists who now make hits for the generation that Generation X spawned.
Jewel
After dabbling in folk, country, rock, and, uh, dance-pop, it was only a matter of time before the mellow chanteuse got into kid's tunes. Her album "Lullaby" is exactly what it says on the tin: nearly an hour of narcoleptic soothing from the woman who asked who'll be saving your soul. Although there are some overly obvious covers ("Twinkle, Twinkle Little Star"? Come on now), Jewel deserves credit for bringing her songwriting A-game to an album that will mostly be heard by sleepy toddlers.
Andre 3000
After OutKast went on hiatus, the rap titan took his creative talents to something a bit different: children's' cartoons. On his 2007 series Class of 3000, Andre played a music teacher at school for the artistically gifted and he wrote and performed the soundtrack to the show in character. The result is a collection of funky, expertly-produced jams that combines everything from blues to jazz to straight-up soul into an R&B sound kids and parents can enjoy (Try not to get down to "The Crayon Song"). It's so much more than a side project and probably makes Ms. Jackson more likely to forgive.
They Might Be Giants
No discussion of adult bands gone kid would be complete with TMBG. After finding 90s success with a string of hits like "Particle Man," "Birdhouse in Your Soul" and "Ana Ng," the rockers have dedicated the last 10 years to making catchy, brainy children's music — like the Mickey Mouse Clubhouse theme. For the uninitiated, their 3 album series on the alphabet, numbers, and science is a great place to start.
Lisa Loeb
The woman behind everyone's favorite song on the Reality Bites soundtrack is much more than a one-hit wonder. Since she became the first unsigned artist with a number #1 Billboard single (and the woman solely responsible for making nearsightedness attractive), Loeb has grown into one of the most celebrated creators of kids' music that won't shred parents' eardrums. Her album "Camp Lisa" is an NPR favorite and buoyantly, well, campy tribute to summer fun.
Barenaked Ladies
The Canadian hit makers behind "If I Had a Million Dollars" and "One Week" got into the children's' music game in a big way with their album "Snacktime!" The playful, hooky songs here would be at home on any Barenaked Ladies album even though they're almost exclusively about snacks, from popcorn to pickled eggs. BNL even get an extra boost from celebrity friends like Weird Al, who likes honey roasted peanuts, and Sarah McLachlan, who likes chocolate.
The Verve Pipe
After becoming fathers in the early 2000s, the guys responsible the angsty teen's anthem "Freshman," put out "A Family Album" in 2009. Reportedly inspired by They Might Be Giants, the album is the band's way of introducing their own kids to rock music. If a sold out tour of elementary schools is any indicator, TVP knows how to convert Wiggles fans into budding headbangers.
The Presidents of the United States of America
Once the frontman of the beloved "grungy but not grunge" PUSA, Chris Ballew now performs kids' music as Caspar Babypants (a pretty natural fit for a guy whose biggest hits were about things like peaches and lumps) As one of the brightest stars of the kindie scene, Ballew writes and sings well-crafted little numbers that wouldn't sound out of place on a Beatles b-side. In fact, he even released an album of Fab Four covers that won't make you scream for the real White Album.
This article was originally published on