9 Modern Kids' Songs That Won't Make You Lose Your Mind
In fact, they're catchy as hell.
by Adam Bulger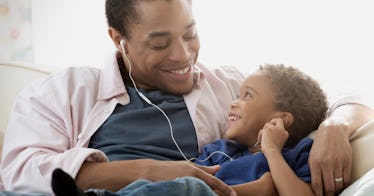 Cuteness once reigned supreme in kids' music, with artists more concerned with cramming happiness into tracks than expressing actual emotion. And while there's a place for such tunes, that place is not in your home on repeat for the 1,00th time this week. Thankfully, a lot of modern kids' musicians craft tunes in a variety of styles — including folk, electro-pop, and some psychedelic space rock that will bring you back to your dorm room days — that speak to your kid's sensibility without making you want to pour marinara sauce on your speaker to make the songs stop. The following 9 songs are so catchy and well-constructed, you might move them to your personal playlists.
Caspar Babypants, "Winter Party"
With his 90s goofball grunge band The Presidents of the United States of America, Chris Ballew scored hits with karaoke-ready classics "Lump" and "Peaches." In his post PUSA career, he's crafted pop gems for parents as Caspar Babypants. Following 2 albums of family-oriented Beatles covers, he released "Winter Party" in late 2016, gently celebrating fun in the cold.
Bill Murray, "The Bare Necessities"
G.O.A.T. Ghostbuster Bill Murray sings the jazzy Jungle Book showstopper and it sounds exactly like you'd hope it would. Murray channels his SNL lounge singer but wrings out most of the smarm and all of the shtick. The end result is a boisterous Chicago dad having fun singing his favorite song to an audience he loves. And yeah, maybe it sounds like he has a little buzz going on, too — it's possible beer was a necessity for the recording session.
StevenSteven, "The Unicorn And Princess Rainbow"
Steve Burns, the original host of Blues Clues, is back on the scene for your family's delight. Instead of a scavenger hunt loving, improbably colored animated dog, Burns has partnered with Flaming Lips multi-instrumentalist Steven Drozd on an album of kid-friendly space rock. Burns sings gentle, encouraging words about unicorns and using the toilet over Drozd's playful and borderline trippy instrumentation. It's like the Nick Jr. version of "Yoshimi Battles the Pink Robots."
Koo Koo Kanga Roo, "The Triangle of Success"
There's a lot of irony going on in this tongue-in-cheek take on the Tony Robbins-style self-help album that kids thankfully won't get. While parents chuckle at the mock motivational irony, kids just feel sincerely encouraged while enjoying the kitchen floor dance party inspired by Koo Koo Kanga Roo's lighthearted, upbeat electro rock.
Stevie Wonder and Arianna Grande, "Faith"
So your preschooler isn't ready for "Songs in the Key of Life" yet. That's fine. Sneak him or her into the world of Stevie Wonder fandom via this fast and vibrant dance hit from the animated movie Sing. The high-energy song has all the joy and bounce of Pharrell Williams' "Happy," but without the existential dread of being forced to listen to that goddamn song one more time.
Parry Grip, "Yum Yum Breakfast Burrito"
The lead singer of the pop punk band Nerf Herder has posted kid friendly song sketches on YouTube since 2008. The silly and simple songs are usually about food, animals or science fiction — or a combination of those themes, as with "Pancake Robot." When your kid asks you what a Nerf Herder is, ask them who's "scruffy looking" and take advantage of their confusion to play the original Star Wars trilogy.
They Might Be Giants, "Oh, You Did"
They Might be Giants have aimed their absurd pop at alterno families for more than a decade. This 2015 ode to parents grudgingly accepting their kid's misbehavior is an example of their mastery of the form. Parents will instantly relate and kids will dance and hum along.
Emily Arrow, "The Dot Song"
When you have kids, you cultivate an appreciation for a "chill kid's librarian" vibe. Emily Arrow is like that vibe's Beyonce. Accompanied by guitar and ukulele, Arrow sings about the joys of friendship, the infinite possibilities of drawing a picture and the need for patience while traveling. It's the perfect soundtrack for car trips and rainy day crafts.
Purr Fiction, "Girl, You'll Be A Woman Soon"
There's a whole subgenre of albums that transform grown up music into baby lullabies. When they're appropriated from hard rock, like Black Sabbath or Guns N' Roses, the fun comes from the contrast between the original's heavy riffage and the cover's gentle sounds. This collection transforms the soundtrack of Tarantino's hilarious and hyper-violent masterwork into slumbering, gentle odes. There's a weird cognitive dissonance to having your kid fall asleep on your arm while you remember the "bring out the gimp" scene. But just go with it.
Bonus: Kimya Dawson, "Alphabutt"
This isn't new by a long stretch, but who cares? Ten years ago, Moldy Peaches singer Kimya Dawson sang through the alphabet with animal farts. As a testament to the power of stinky songs, it remains flatulent family fun.
This article was originally published on