8 Hidden Parenting Lessons in 'Cobra Kai'
The Netflix 'Karate Kid' sequel series has more parenting advice than karate lessons.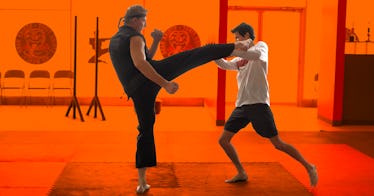 Netflix
When Cobra Kai first debuted, you'd be forgiven for thinking that it would be a quickly thrown-together show to capitalize on Karate Kid nostalgia — a Fuller House-style series with clunky dialogue and lazy plot points, the only purpose of which was to show off some tournament fighting and teen angst. But the series — now streaming on Netflix — is a thoughtful drama that has all the karate and underdog charisma of The Karate Kid, while deftly examining the character's lives after nearly 40 years. Yeah, there are crane kicks, All-Valley Tournaments, wax-on-wax-off-moments, and plenty of 80's nostalgia to lap up. But Daniel Larusso (Ralph Macchio) and Johnny Lawrence (William Zabka) are very much struggling as middle-aged men, husbands, and fathers.
Johnny, the once-golden boy with everything going for him is now a struggling loner and estranged father, ruined by his loss to Daniel decades ago. Daniel has ridden his tournament fame into a successful auto empire and rich lifestyle. But he's, well, sort of a prick and needs to work on a lot of family issues. When competing dojos open up and the former rivals come face-to-face again, more is at stake than a trophy. By a twist of fate, each is training the other's child.
Just as the original Karate Kid saga weaved life lessons throughout fight scenes and comings of age, Cobra Kai skillfully integrates tenderness, heartbreak, and sympathy between the fists, creating layered versions of Daniel and Johnny that grow and mature like a Miyagi bonsai. Martial arts techniques are designed to be perfect. There's no room for error in a fight that could mean defeat, disgrace, or even death. Parenting, though? That's messy, unpredictable, and as imperfect as it gets. Especially in Cobra Kai.
Through the first two seasons of Cobra Kai — a third is on the way in early 2021— the main characters have taken their beatings. Not just in the dojo, but in the living room, at the dinner table, and every other place there might be an opportunity to grasp a bona fide parenting lesson. Here are eight big parenting lessons found in the show.
1. Trust Is Crucial to the Parent-Child Relationship
Karate KidCobra KaiCobra Kaiden-den daiko technique
2. Making Mistakes Is Part of Life
Cobra Kai
3. Happiness Is Hard to Find
4. Money Doesn't Buy Happiness For Parents
Cobra Kai
5. Tough Love Works…In Moderation!
was
6. Helicopter Parenting Can Backfire
phoned the schooltransformation into Hawk
7. Teamwork Makes the Marital Dream Work
Cobra Kai
Andtogether
8. Forgiveness is the Way
Cobra Kaionce said You can stream Cobra Kai Seasons 1 and 2 on Netflix right now. Season 3 is coming in January 2021.