8 Easy Campfire Songs to Teach Kids This Summer
Sing these songs over an open campfire while roasting marshmallows.
by Alicia Kort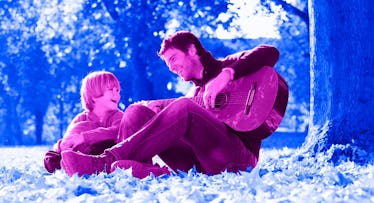 Like s'mores and mosquito bites, campfire songs are a summer tradition. Most summer camps have their own special anthem, sure, but there are also many campfire songs for kids that are simply passed from generation to the next, around the campfire. Some are silly; others are simple. Still others have been pulled from pop culture into summer camp. Most have easy-to-remember rhymes and melodies that can be sung around a campfire or when moving from one place to another. What unites campfire songs is their unique ability to entertain and inspire kids. Camp or no camp, singing can be a summer tradition for everyone. Here are eight great camp songs for kids to learn this summer.
8. "We're Going on a Bear Hunt"
Not only is this a fun song to sing along with, it also helps young children learn the differences between above, over, and through. This classic folk song was actually made into a book of the same name by Michael Rosen.
7. "Camp Granada"
This 1963 novelty song from Allan Sherman is from the perspective of a young camper who's trying to convince his parents to let him return home. This might take a few listens for your young ones to learn, but it's great to sing when everything that could go wrong in the wilderness is. It'll remind your kids that camping is worth it.
6. "The Green Grass Grew All Around"
This is another song that builds on itself. It focuses more and more on the details of the tree itself as the verses go on. It'll encourage your children to look a little bit closer when they're in nature. They'll be reminded to be observant and curious.
5. "Ants Go Marching"
Nope, not the Dave Matthews Band song. Rather this is the classic ear worm: "…and the ants go marching one by one…" Sing the song while you're going on a hike or a walk with your kids. If they're very young, this is a good one to help them work on their counting skills. "Ants Go Marching" will probably be stuck in your head for the rest of the day. You can thank us later.
4. "Kookaburra"
This is actually an Australian song, but for some reason, it's often sung in America. This catchy camp song will have your kids laughing at the unfamiliar words you're singing. This also gives you an opportunity to teach them that different animals live in different environments. You can't find Kookaburras in America, but there are certain local critters you can tell your kids to keep an eye out for.
3. "The Bear Went Over the Mountain"
We couldn't just put one song about bears on this list. Kids love bears, but maybe try to camp in an area where there aren't any actual bears. They're going to be a lot less cuddly than the ones in these songs.
2. "This Land Is Your Land, This Land Is My Land"
If you stick to Woody Guthrie's chorus, this song is easy for kids to learn. There's a chance that they might know it already. This famous folk ballad about the United States is bound to bring a tear to your eye as you gaze at some of America's natural majesty with your kids.
1. "Home on the Range"
Your kids might get a laugh out of you trying to warble this out as well as the Singing Cowboy Roy Rogers, but it also gives you an opportunity to talk about the history of America's Wild West around the campfire.
This article was originally published on