8 Children's Books That Inspire Resiliency
These books not only teach kids about determination but also how to get back up after — and understand — defeat.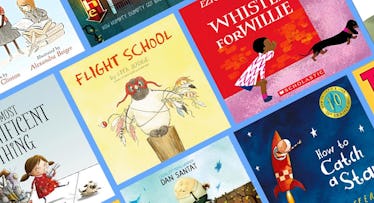 Resilience, persistence, sticktoitiveness. No matter which term you use, it's a vital skill for kids to have. Failure is inevitable, and helping your kids understand how they can learn and grow from those experiences is vital. The eight books below are wonderfully written and illustrated, and can help you have conversations about failure with your kids that will help them become more resilient.
The following books are all picture books, so in terms of reading level, these are going to be best for your budding early grade-school reader.
The Carrot Seed by Ruth Krauss
From the author of Harold and the Purpose Crayon, this board book tells the story of a little boy who plants a carrot seed. His mother, father and older brother doubt that it will grow, but the little boy steadfastly tends to his seed. We won't spoil the ending for you, but we will say that this book contains a valuable lesson about continuing on in the face of naysayers.
Whistle for Willie by Ezra Jack Keats
In this sequel to the Caldecott medal-winning The Snowy Day, a boy in Peter's neighborhood has a dog who comes when to a whistle. Peter wants to call his own dog, Willie, the same way and sets out learning how to whistle himself. In his mind, things, like spinning around a light post and wearing his dad's fedora, might help, but ultimately Peter finds success only by blowing and blowing and blowing until, finally, a whistle comes out and Willie comes to Peter. It's a straightforward tale of "if at first, you don't succeed, try try again" rendered vibrantly in Keats's signature, colorful style.
How to Catch a Star by Oliver Jeffers
An unnamed boy loves stars so much he decides to catch one. He gets up early — the stars are more tired then, from being up all night — and waits all day for one to appear. When he finally sees one at dusk, he jumps for it, climbs a tree, and tries to lasso it, but it's all for naught. An out-of-gas spaceship and uncooperative seagull are also of no help. The boy keeps trying and, eventually, he accomplishes his goal. How to Catch a Star shows the value of trying different solutions to a problem that at first seems impossible to solve.
Flight School by Lita Judge
What happens when a bird has the body of a penguin but the soul of an eagle? After failing at flight school, a young penguin gets help from the other birds to realize his dream of soaring through the sky. The penguin is far from satisfied, however; he brings his friend the ostrich to flight school so that he too may experience the joy of flight. This wonderfully illustrated book teaches the important lesson that some goals can be accomplished only with the help of others and that we should not only pursue our own dreams but help others achieve theirs too.
The Most Magnificent Thing by Ashley Spires
With her dog as an assistant, our unnamed protagonist sets out to make the most magnificent thing. After a lot of trial and error, however, she still cannot make the "MAGNIFICENT thing she has in her mind." She works more and more quickly, becoming angrier and angrier until, finally, she explodes in anger and quits. Dejected, she and her dog walk by her past efforts. For the first time, she notices the right aspects of all of the wrong things. Working slowly, she assembles her small successes into a thing that, while not the most magnificent thing, makes them both happy.
It is even more important for perfectionists to learn resilience than other kids, if only because they are much more easily disappointed. This book doesn't say that effort will inevitably lead to perfection. Instead, it shows that sometimes perfection is not needed to be happy.
The Thing Lou Couldn't Do by Ashley Spires
Spires's next book tells the story of Lou, an ambitious girl whose friends decide to climb a tree to pretend it is a pirate ship. Unfortunately, Lou has never climbed a tree before and is afraid of heights. She makes excuses not to try, but her friends keep asking her to climb up. Lou considers using a trampoline or a helicopter to get to the top of the tree. Finally, Lou faces her fear and starts to climb, but quickly falls down. She and her friends race off to the playground, but she resolves to go back to the tree tomorrow and try again. Lou, along with the reader, learns to be courageous and not to be frustrated by a lack of immediate success.
After the Fall: How Humpty Dumpty Got Back Up Again by Dan Santat
In the aftermath of Humpty Dumpty's great fall, we learn that the king's men were actually mostly able to put him back together. Now deathly afraid of heights, Humpty Dumpty walks by the wall every day and things about how much he misses the birds who fly near the top. To solve his problem, Humpty decides to make a paper airplane that can fly to the top of the wall, even if he can't. When the plane gets stuck on top of the wall, Humpty finally faces his fear by climbing up to retrieve it. One step at a time, he makes it to the top, no longer afraid of falling again.
Fears are a huge part of childhood, and Santat's story cleverly takes a character everyone knows and turns him into an example of how rewarding it can be to not let fear control your actions.
She Persisted: 13 American Women Who Changed the World by Chelsea Clinton
Unlike the rest of the books on this list, She Persisted is full of true stories. The thirteen women profiled are a diverse group, from Helen Keller to Nellie Bly to Claudette Colvin. What they all have in common is their persistence. She Persisted is a great way for boys and girls to learn some American history and to be inspired by the courage of the women who helped to shape it.
This article was originally published on