8 Amazing Norton Juster Books That Aren't 'The Phantom Tollbooth'
From ogres to otters, squiggles to similes, there's more mayhem and magic to love after Tollbooth.
by Tess Gionet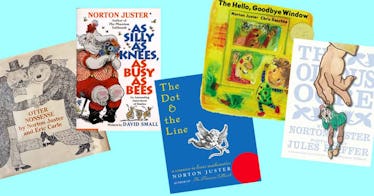 If at least one of your childhood summers wasn't spent lost in the pages of Norton Juster's classic, The Phantom Tollbooth, I feel a little sorry for you. It's a right of passage for kids, and there's a strong case to be made for re-reading it as an adult, too. So if you need a reason to call in sick and curl up with a copy of Tollboth, we're happy to oblidge. But before you get to Tock, might we suggest getting your hands on a few other brilliant books from the prince of prose himself?
Juster, who recently passed away, was a talented architect and began writing children's literature out of boredom. His claim to fame came from Phantom Tollbooth, of course, but he wrote a total of twelve books in his career, a mix of picture and chapter books that are wonderful to read no matter your age. We've whittled down our eight favorites, so you can keep the magic going long after Milo's return from the Lands Beyond.
Neville. Juster is just as clever as ever in his storytelling, encouraging children with his dry wit ways to shout for help when they're in need. There's always a friend (or a neighborhood of friends-t0-be) who will be happy to help." price="$17"]
Every product on Fatherly is independently selected by our editors, writers, and experts. If you click a link on our site and buy something, we may earn an affiliate commission.
This article was originally published on