7 Books That Help Kids Better Understand People Affected By Disabilities
These 7 kids' books feature main characters with physical or mental handicaps — and each teaches acceptance and perseverance while telling a great story.
by Chris O'Shea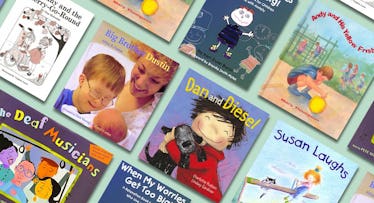 At some point your kid will become curious about people who look and act different than them. And when confronted with this awkward curiosity, you may grasp for ways to talk about why Suzy came to school with a chair that has cool wheels on it. That's where these 7 books come in. Each feature characters living with physical or mental disabilities and teaches kindness and perseverance. All while making it clear that folks affected by disabilities are just people like everyone else. Except, they get cool wheels.
Andy and His Yellow Frisbee by Mary Thompson
Andy and His Yellow Frisbee tells the tale of a young boy living with Autism. When a girl notices that Andy spends most of his recess spinning a frisbee by himself, she befriends him despite his trouble connecting with others. It's a great story, made all the more affecting because it's told through the prism of Andy's older sister, providing a great perspective on Autism that even the youngest kids can understand.
Ages: 5+
Susan Laughs, by Jeanne Willis
Susan Laughs won the Nasen Special Educational Needs Book Award in 1999 and for good reason. The book uses simple rhymes to show Susan laughing, playing, being scared, working hard, and more. Susan, readers will see, is a pretty badass little girl no different than anyone else. It's not until the end of the book that Willis reveals Susan uses a wheelchair. It's a simple, yet powerful, way to show how people aren't defined by the barriers they face.
Ages: 4+
Dan and Diesel, by Charlotte Hudson
Dan's dog Diesel is basically the gnarliest companion a kid could ask for. He rides trains, fights dragons, helps Dan to the market and goes everywhere he goes. Diesel is never afraid and the duo take off on a series of boy-and-his-dog adventures. It's only at the end that it's revealed that Dan is blind and Diesel is his seeing eye dog. It's a remarkable story.
Ages: 4+
The Deaf Musicians, by Pete Seeger
The Deaf Musicians tells the story of Lee, who's forced to leave his jazz band when his bandmates notice he's struggling to play the piano. The reason for his rhythmic difficulties? Lee's losing his hearing. Things pick up though, as Lee enrolls in a school for the deaf and finds new friends — and most importantly — a new band. It'll help teach your kid to find the happiness in any situation. It won't, likely, help them "get" jazz. That's on you.
Ages: 5+
When My Worries Get Too Big, by Kari Dunn Buron
Worry wreaks havoc on a lot of kids, tying their stomach into sailor knots. Through illustration and activities, When My Worries Gets Too Big explains diagnoses like crippling anxiety and ADHD in a way that makes it easy for kids who struggle with them to not feel so alone. The included stories are fun, engaging, and littered with encouragement to help kids come up with their own calming methods when anxiety issues arise.
Ages: 6+
Big Brother Dustin, by Alden Carter
Dustin, a young boy with Down Syndrome, is pretty stoked when his parents tell him he's about to have a little sister. He tries to come up with a name for her but struggles at first. With a little creative thinking, however, Dustin eventually finds something his parents love. It's a story that deals with many of the same emotions siblings-to-be experience and illustrates how perseverance, no matter your struggle, helps overcome any obstacle.
Ages: 5+
Danny and the Merry-Go-Round, by Nan Holcomb
One day while watching kids play and ride a carousel, Danny becomes frustrated by his inability to participate. It's not easy to join in because he is living with cerebral palsy. Luckily, a little girl befriends him and they embark on an adventure. It's a touching story, made more powerful for its simple treatment of cerebral palsy. By making the syndrome less strange, the book reduces the stigma.
Ages: 5+
This article was originally published on