How To Get Your Kid Into 3D Printing Without A 3D Printer
by Alison Zeidman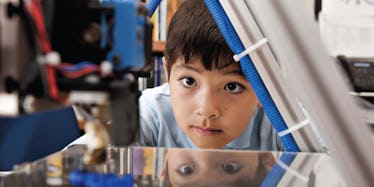 You thought that by now your kid would just be popping out toys, books, and maybe the occasional missing LEGO piece from a personal 3D printer. Patience. While these devices not as ubiquitous as your old HP Deskjet, they are finding their way to a makerspace, public library, and science center near you.
And, because of that fact, Sarah O'Rourke, the product marketing manager at Autodesk, is trying to take your kid's interests and figure out how to make cool stuff they'll love IRL (like a Pokemon Go aimer). Here are few ways she gets her young design students to transition from fabricating in Play-Doh to constructing in plastic.
Building Problem Solving Skills, Solved
"It's exciting for kids to develop the ability to really think about how to change things around them, and do that through design and making and 3D printing," says O'Rourke. One of her proudest examples comes from an experience teaching in South Africa, where a group of kids used a 3D printer from Autodesk to design and print their own solutions for water sanitation issues in their community. Or you can make a Darth Vader helmet that fits a LEGO dude. No moral judgments.
Start With A Bunch of Junk
O'Rourke has kids of her own, and to get them into the maker mindset, she took them to — a junkyard. She's not a huge Sanford & Son fan; she saw an opportunity to pick out a broken device, take it home, disassemble it, and explore how it was made. "We'd spend the afternoon taking things apart and then asking, 'How would you change this or recreate it?' or 'What's in there and what do you want to do with it?'," she says. It doesn't matter if you know how a clock works. What's important is that they're curious about the way stuff works. And tetanus shots. Also important.
How To Engage Kids From First Grade And Up
Kids as young as 4 can start designing with some parental guidance, but around first or second grade is when they have the cognitive awareness to work on a laptop by themselves. O'Rourke's now 7-year-old daughter started out with simple projects, like making a heart-shaped backpack keychain or re-creating favorite Disney characters. When her daughter became obsessed with Frozen, "we decided to make it a learning opportunity and designed Elsa in Tinkercad," says O'Rourke. First she had daughter draw it on paper to visualize it. Then they built it out in Tinkercad, the free online design software where anyone can use basic shapes, like cylinders, cones, and spheres, to flesh out a model of what they want their finished product to look like.
Older kids (ages 10+) might be more interested in things like designing Minecraft schematics (which they can do on Tinkercad with a special plug-in). Or, they might make a topographical map or a replica of national monument to go along with a history project. Wes Anderson would approve of that diorama.
Teach Them How To Think Like A Designer
O'Rourke tells kids in her workshops to imagine they're the heads of a design studio. To make it more visceral, she gives them a "client." Then she passes out wacky business cards with fairies and ninjas on them. "We talk about what they notice about that person, and then give them a design challenge, like designing a chair," she explains. "They have to think like, 'Your pirate who has a hook for a hand — what kind of chair do they need?'" This free-form thinking, exploration stage gives them creative room to breathe without focusing on the "how" challenges. (By the way, the correct answer is an aarrrm chair.)
You Don't Need Your Own Printer
Getting your own 3D printer is still pretty expensive. Even the cheapest model O'Rourke recommends, the Pro Z, will set you back around $400. Many local libraries offer 3D printers and classes, and O'Rourke recommends checking out makerspaces and meet-ups around the country like MIT's Fab Labs. There's also Thingiverse, an open-source online community of people sharing their already-designed 3D models. "A great place for kids to start is searching the galleries and finding things that they just want to download and print before designing," she says. When they're ready to get serious, lots of 3D printer companies host design challenges where they give away free printers as the prize. Then you can take it home and print a trophy.
This article was originally published on