3 Questions About the 'Daniel Tiger' Movie, Answered
This is actually a pretty big deal.
by Alicia Kort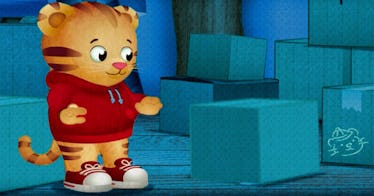 PBS Kids
That pantsless little tiger that your kids worship is starring in his own movie. When Daniel Tiger appeared on-screen six years ago, he and his friendly neighbors elevated children's programming thanks to a winning combination of emotional intelligence and adorableness. Daniel doesn't only help kids with colors and counting, he also teaches them social skills, emotional intelligence and how to deal with problems and situations they will encounter in their lives. Recently, Daniel Tiger's mom went back to work after caring for him for and his sister Margaret at home for three seasons.
Now, for the first time, Daniel Tiger will have an hour-long TV movie. And it turns out there's a new family in Daniel's neighborhood. As a show, Daniel Tiger's Neighborhood is unafraid of shying away from how a child's life might change, which is exactly what this new movie deals with Here are three things parents need to know it.
Why Is It Connected to Mr. Rogers?
This year is the 50th anniversary of Mr. Rogers' Neighborhood. This animated spin-off is paying homage to the man who started it all by introducing some new characters: The Platypus family.
If you watched Mr. Rogers' Neighborhood as a child, you might remember the Platypus family. After Dr. and Mrs. Frogg moved to Woodward, Dr. Bill Platypus and his wife Elsie Jean joined the community of the Land of Make-Believe. If your children watch Daniel Tiger, no doubt you are familiar with how Daniel Tiger's Neighborhood has pulled from Mr. Rogers to reimagine some of the characters created by the world's best neighbor.
Daniel's brand new friend and neighbor, Jodi Platypus, has a more unique origin story. Dr. Platypus and his wife did have a daughter—named Ana—during Mr. Rogers' era, but the creators of Daniel Tiger decided to name Jodi after Fred Rogers' wife Joanne (whose nickname is Jodi). The movie will explore what it's like to move to an unfamiliar place and be the new kid in town.
Where Can You Watch It?
On your local PBS station. Make sure to check your listings, because the times may vary. The film has its big premiere on September 17. It's basically your child's Infinity War, so make sure you don't miss it.
What is Changing?
The movie will be focused on Jodi's move to the Land of Make-Believe. Daniel Tiger will learn what it's like to meet a person who doesn't look like you and help her get adjusted. Halfway through the film, the perspective will shift from Daniel to Jodi, according to USA Today. Like any Daniel Tiger episode, the movie is going to include catchy, helpful tunes that your child will sing for the rest of eternity.
You better buckle in for Jodi Platypus though, because she's going to be a recurring character. Jodi is three years old, a year younger than Daniel, according to one of the show's producers Chris Loggins, but she will be incorporated into Daniel's group of friends.
Following the movie, two more Jodi-centric episodes will air with "Jodi's First Day at School"/"Daniel Plays at Jodi's House" on September 18 and "A New Friend at School"/"A New Friend at the Playground" September 20, which will introduce Jodi to the other beloved characters in the neighborhood.
This article was originally published on