25 Ways to Feed a Kid's Mind, Body, and Soul on the Weekend
Looking for fun, meaningful ways for your kids to spend time outside? You've come to the right place.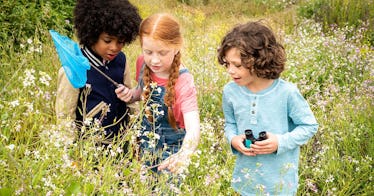 This story was produced in partnership with CLIF Kid®.
It's important to get outside every day, but weekends are when families have the time and energy to really bask in the glory of the great outdoors. Without work or school to worry about, longer activities that might happen further from home are possible. Every weekend of your kids' childhood is another opportunity to ensure that they're benefiting from all that the outdoors has to offer.
But while it's easy to grasp that outdoor time is inherently well spent, it can be harder to come up with specific ways to fill your family's weekends with fresh air and sunshine. That's why we came up with 25 different things you can do to use weekend outdoor time to make your kid (and your family) happier and healthier.
Plan a natural scavenger hunt. Next time you go for a walk in the woods or at the local park, have the kids look for a certain amount of acorns, pine cones, leaves, and other such. If you're at the beach, you can switch the items to different kinds of shells, pebbles, seaweed, shark teeth, and anything else they might find along the shore. Just make sure you leave it all behind for the sake of nature (and the next group of human scavenger hunters).
Build a mud kitchen. No family backyard is complete without a mud kitchen — a play kitchen put in the backyard that sometimes has a water hookup, the sole purpose of which is as a space where kids can play with mud. The setup provides the kind of good clean dirty fun that little ones revel in — plus it encourages imaginative play, builds fine motor skills, and promotes mindfulness.
Take in some outdoor art. From sculpture gardens to outdoor concerts to immaculate topiaries, there's no shortage of ways to enjoy art in the great outdoors. Save the museums for the colder months and make plans for your family to take advantage of all of the al fresco art opportunities available to you.
Compost as a family. The act of recycling food scraps and other such detritus is a fantastic way to teach kids about food, science, nature, environmental stewardship, and the relationship between them all at once.
Bring along a snack your kids will actually eat. There are lots of snack bars out there, but many sadly end up partially eaten or in crumbles on the ground. Opting for CLIF Kid Zbar®, a whole-grain, soft-baked snack that comes in a slew of flavors kids love like Chocolate Chip and Iced Oatmeal Cookie, means you don't have to sacrifice taste for convenience. Each one will give kids the energy they for longer, happier outside play.
Plant a personal garden. That is, find a small patch of land in your yard and designate it your child's garden. See what they want to plant, plant it with them, and teach them how to care for it every day. To watch something you planted grow is an experience to be passed down.
Create a butterfly garden. Butterfly-attracting plants, a sunny but wind-sheltered spot, and a kid who doesn't mind digging in the dirt for an afternoon is all you need to create your own backyard butterfly garden. The initial planting is part of the fun, but the best part is watching the winged beauties descend over the weeks and months that follow.
Go stargazing. Kids can stay up later on the weekends, which means they're the perfect time to look at the night sky and ponder the mysteries of the universe—or at least spot the Big Dipper.
Try some rock hunting. Find a local area to hunt for various types of rocks and minerals and learn about your area's local sedimentary, igneous, or metamorphic creations. All you need is a few trowels, brushes, and a bag to carry your treasures home. If they get really into it, you can even get your kid a polisher to shine up their finds and display them in your house.
Do some low-stakes camping. Camping in the backyard is a great way to see how your kids handle the great outdoors without risking being stuck in the wilderness with an unhappy youngster. Importantly, the bathroom is right there.
Engage in some supervised tree-climbing. No childhood is complete without reaching the top of a tree or two. There's probably a park nearby with some low, climbable branches — with you there to spot and rescue them just in case.
Find an exotic playground. The best playground for parents is usually the nearest ones, but there's something special about going a bit out of your way to find a playground with cool features—those extra tall slides, water elements, or a unique theme—that can't be found in your neck of the woods.
Hit the right trails. Research the trails in your area and find ones that aren't too difficult or too long and offer your family more than just a traipse through the woods. Waterfalls, particularly scenic vistas, and animals in the wild are all sights kids should see.
Take a break from the tube with tubing. No waterpark lazy river can match the joy of tubing down a real river, the kind of low-effort high-reward outdoor activity that even the most TV-loving kid will be happy to do.
Play sports together. Playing sports with your kids is a great way to spend quality time outdoors, with plenty of natural opportunities for imparting wisdom, enjoying the fresh air, and getting in some exercise as a family.
Engage in some healthy competition. Whether it's running laps at the local track, biking around the park, or shooting hoops, the outdoors offers plenty of opportunities for competitive kids to prove themselves—and learn how to handle losing gracefully.
Ensure your kids get the nutrition they need between meals. CLIF Kid Zbar® Protein balances protein and whole grains, helping to provide nutritional building blocks for kids' growing bodies while stopping hunger in its tracks. Keeping them in your pack or making sure your kids grab one before they head out the door is a great way to make sure their tummies aren't grumbling between lunch and dinner.
Host a neighborhood water battle. Whether it's lobbing water balloons, firing squirt guns, or just turning the hose on the kids from down the street, a water-soaked battle is a great way for kids to get outside, expend some energy, and bond with other kids on the weekend.
Foster environmental awareness. Whether it's leaving no trace after a camping trip, picking up trash during a beach clean-up, or maintaining a pesticide-free vegetable garden, the best place for kids to learn about how to protect the environment is, well, the environment.
Build a birding oasis. Feeders are fun. But installing a birdbath and setting up bird feeders are DIY tasks that kids can also help with, and they'll be captivated by the feathered friends who make it a point to stop in your backyard.
Let your kids explore on their own. Once they're mature enough, you should encourage your kids to explore the outdoors without you. Set clear parameters—home by a certain time, within certain geographics boundaries, etc.—but give them freedom to look around on their own. When you do, you're showing them you trust them and fostering a sense of independence—and a love of nature—that will serve them well throughout life.
Play some camp games. Summer camps are all about building relationships and fostering community, which means they're also good for families. Such activities as obstacle courses, group canoeing, and trust falls are classic camp activities that are also worth adding to your family's outdoor agenda.
Enjoy and educate with organic foods. The best way to educate kids about organic foods is to visit an organic farm. Find one in your area and arrange a family visit to learn more about the importance of growing and eating organic for the health of the farmers, the environment, and, of course, the eaters. Bring an organic snack like a CLIF Kid Zbar® to make the connection between what's in the ground and in their stomach crystal clear.
Get some vitamin D. During the summer months, getting outside (and out of the shade) means raising your family's vitamin D levels, which is a good thing for bone health. Just make sure you don't forget the sunscreen!
Pick up a new hobby as a family. What matters less is whether the hobby is rock climbing, playing tennis, mountain biking, or an entirely different outdoor activity. What matters more is that you do it as a family, demonstrating to your kids that it's good to try new things (even if you're not good at them) and that the outdoors offers nearly unlimited opportunities for personal growth.