15 Very Good Reasons to Switch to Digital Books
Whether your kids are learning how to read or blazing through chapter books, digital book service Epic is a great fit. Here's why.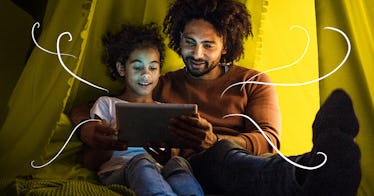 This story was produced in partnership with Epic.
Your kids will never run out of books.
Instead of asking you about how things work, they can read about it themselves.
Ultimate Dinopedia rocks trucks butterflies
Kids can stumble onto the perfect book.
Isn't it time your kid got acquainted with Ramona Quimby, Age 8?
Kids can learn about history—even the difficult parts.
Kids can listen too.
Kids can read popular books destined to become classics.
Click, Clack, Moo Cows That Type
It's easy for your kids to discover classic books from your own childhood.
You can use it anywhere you bring your phone or tablet.
Kids can experience the magic of poetry.
It's a great way for kids to discover new genres.
Parents and teachers can join kids on their reading journey.
Digital books can help entice hesitant kids into reading.
Sesame Street booksMr. RogersPete the Cat
It can also help kids learn another language.
La llavecita doradaWhen you're ready to take advantage of everything Epic has to offer you and your family, you can sign up at getepic.com.
This article was originally published on