12 Kids' Albums Made By Musicians You'd Listen To Anyway
Johnny Cash, Ziggy Marley, Prince Paul, Jerry Garcia, and other albums for kids that parents won't hate listening to.
by Fatherly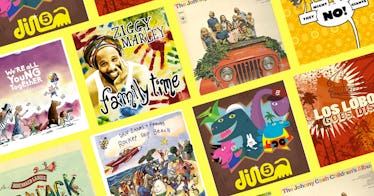 Rock stars have long made a habit of serenading the children of their fans (also known as the next generation of concert-goers). From Johnny Cash to Prince Paul, you'll be surprised to see who has made albums you and your kids can both agree on.
We're All Young Together, Walter Martin of The Walkmen
The track list, including "We Like The Zoo ('Cause We're Animals Too)" and "If I Were A Tiger," reads like a conventional kids album, but Martin's songs toe a much more subtle line. The anthropomorphized animals in his lyrics will keep kids engaged in the storytelling, but the potent melodies sound more like a great singer songwriter who replaced angst with amusement. Amazon | iTunes | Spotify
Family Time, Ziggy Marley
Marley's lineup for Family Time reads like a concert bill for a summer stoner festival — Willie Nelson, Jack Johnson, and Toots (of Maytals fame) all make appearances. Kids often take to the bouncy rhythms of reggae without any help, but just in case, Ziggy adds the occasional "Choo! Choo!" to classics like "This Train." Otherwise, you might not realize this is a kids' album. Amazon | iTunes | Spotify
The Johnny Cash Children's Album, Johnny Cash
Ever notice how "A Boy Named Sue" kind of sounds like a kids' song, except for all the drinking and fighting and dad hating? In 1975, Cash made an entire album of similar-sounding tracks about things like arithmetic and dinosaurs. They're all devoid of inappropriate behavior, unless you count "Nasty Dan," who laughed when little boys fell down and never took a bath. Amazon | iTunes | Spotify
No!, They Might Be Giants
You could be forgiven for thinking that They Might Be Giants was a kids' band all along. The razor sharp, goofy pop of their normal albums annoys some, but when they aim the same sound at kids it tends to captivate. The group has turned out albums devoted to numbers and the alphabet, but No! has the broadest range of subjects and sounds. Amazon | iTunes | Spotify
Snacktime!, Barenaked Ladies
This is sort of the album version of a movie like Shrek, where all the jokes work on two levels — one for adults and another for kids. Regardless of age, it's easy to be entertained by lines like, "Raisins come from grapes/People come from apes/I come from Canada." Snacktime! has 24 tracks, and just about every one has a lyric that will make you laugh. Amazon | iTunes | Spotify
Rocket Ship Beach, Dan Zanes of the Del Fuegos
Most of Zanes' albums blur the lines between target audiences. There are plenty of singalongs and remakes of kids' classics, but the bluegrass and zydeco-inflected instrumentation is complex enough to hold an adult's attention. Rocket Ship Beach might be the best of his pure kids' albums, but they're all better than anything by the Del Fuegos. Amazon | iTunes | Spotify
Baby Loves Hip Hop, Prince Paul and the Dino-5
From the producer who brought you the decidedly childlike De La Soul classic 3 Feet High And Rising, Baby Loves Hip Hop is like an audiobook of a Saturday cartoon about supremely funky dinosaurs. Prince Paul brings his usual strokes of genius, like casting Jurassic 5's Chali 2na as a misunderstood Tyrannosaurus Rex who just wants to play soccer. Amazon | iTunes | Spotify
OzoKidz, Ozomatli
Ozomatli's hyperactive sound contains all the seeds for kid-friendly music, thanks to the cheerful Latin horns and buoyant Caribbean rhythms. With OzoKidz, the band doesn't change much beyond writing lyrics about how fun dancing is or why the water can sometimes be scary. If your kids are old enough, this could be the first album that gets them slam dancing. Amazon | iTunes | Spotify
Not For Kids Only, David Grisman and Jerry Garcia
The blend of Grisman's bluegrass and Garcia's storytelling is perfect for two things: drinking moonshine and entertaining kids. The duo made four albums, three of which are best for the former. Not For Kids Only, with its banjo-flecked version of "Teddy Bear Picnic" and goofy takes on hillbilly classics like "Hot Corn, Cold Corn," is good for the latter. It still pairs great with bourbon, though. Amazon | iTunes | Spotify
Los Lobos Goes Disney, Los Lobos
For parents at wits end over their kid's insatiable love of Disney show tunes, behold the antedote. These are Disney songs in name and lyrics only; every single note has been reimagined by LA's legendary purveyor of raucous Mexican American roots music. The look on your kid's face when he realizes that is, in fact, "Heigh-Ho" under all that shouting will be priceless. Amazon | iTunes | Spotify
Creole For Kidz And The History Of Zydeco, Terrance Simien And The Zydeco Experience
As with reggae, zydeco doesn't require much translation for kids because of the upbeat tempos and relentlessly cheery accordions. Instead, Simien focuses on telling stories about Creole culture. The narration between songs is annoying, but the songs themselves sound like an all-ages New Orleans nightclub. Amazon | iTunes | Spotify
My Green Kite, Peter Himmelman
A New Wave veteran with a long career as a studio musician and commercial songwriter, Himmelman was largely unknown outside the music industry until My Green Kite. The bluesy takes on kid-friendly topics like dad's job or the titular kite made him a favorite of parents tired of nursery rhymes and earned him a 2008 Grammy nomination for Best Children's Album. Amazon
This article was originally published on