11 Must-See Places on St. Kitts Island
St. Kitts is a tropical paradise rich with history. Here's how to take advantage in one epic day trip.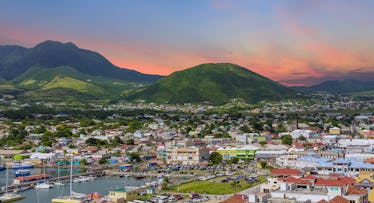 The following was created in partnership with Royal Caribbean. Check out the new sound of adventure on board their newest ship, Symphony of the Seas, sailing from Miami starting this November. Come Seek the Royal Caribbean.
With one of the longest written histories in the Caribbean, St. Kitts island stands out among its Caribbean brethren. Its massive fort, scenic railway, and 17th-century rum distillery give it a distinct feel, all set beside sugary beaches and rolling interior hills. Towering above it all is a 3,792-foot stratovolcano known as Mount Liamuiga, whose steamy slopes contain virgin tracts of tropical cloud forest that are ripe for exploration, just like the rest of the island.
Which is exactly why Royal Caribbean's Symphony of the Seas stops here. Sure, you could spend weeks exploring the world's largest cruise ship, with its 18 decks, dozens of restaurants, and the tallest slide at sea. But it also brings families to bucket-list tropical destinations like St. Kitts. So what should your family do while docked here? Sit back, enjoy some time by the beach pool on deck 15, and read up for what to do while docked at St. Kitts.
MORE: Up Close and Personal With the World's Largest Cruise Ship
1. Wingfield-Phillips Rain Forest Nature Trail
It's time to explore the rich biodiversity of St. Kitts' lush interior on a two-mile loop trail into the Wingfield River Valley. This valley, near Romney Manor, is part of the Central Forest Reserve National Park, which contains the last remaining area of tropical forest on the island. As you follow the spring-fed Wingfield River into the rainforest — marching to the soundtrack of groaning tree frogs — you'll pass tropical plants such as heliconias, ferns, and palms. If the kids are up for it, you can also climb to a 350-foot ridge that offers a bird's eye view over the verdant valley – a great spot for eying any vervet monkeys playing in the trees below.
2. Brimstone Hill Fortress
The Unesco World Heritage-listed Brimstone Hill Fortress was here in 1690 that British forces began work on what would become one of the Caribbean's most imposing citadels, a multilevel polygonal fort built of quarried basalt rock 800 feet above the sea. At one point housing more than 1,000 soldiers, the fort was abandoned in 1853 before restoration began in 1965. Today, it's widely considered one of the best-preserved historical fortifications in the Americas, and a veritable time capsule for history lovers to explore. Grab an audio guide to get the most out of the tour.
3. Mount Liamuiga & The Black Rocks
The slopes of Mount Liamuiga, a 3,792-foot stratovolcano that towers above the entire island is a must-see for all adventure-seekers. To learn a bit of island volcanology, be sure to stop at the Black Rocks, a jagged rock formation on the northeastern coast near the small town of Saddlers. These statuesque rocks, battered by the pounding waves, materialized from solidified lava flowing down Mount Liamuiga during its last eruption more than 1,800 years ago. There are usually a few food and craft vendors here, and it makes a great spot to treat the family to some fresh coconut water, straight out of the shell.
4. St. Kitts Chocolate Factory
St. Kitt's is nicknamed Sugar City for good reason. Find out about its sweet history — and sample in the island's wares — at the St. Kitts Chocolate Factory. If you sign up in advance for a tour of the factory, the kids can not only sample some of the confections, but also create their own handcrafted chocolate, which will be freeze-blasted for safe onward travels. All the while, everyone will learn about the centuries-old sugarcane industry that first put St Kitts on the map, bringing your journey across the island full-circle.
[jwplayer id="qNUVmnq9″]
5. Scenic Railway
The best way to see all of St. Kitts is on an 18-mile, two-hour trip that circumnavigates the island. Work began in 1912 on a narrow-gauge railway line that could transport sugarcane from plantations along the northern coastline of St. Kitts to sugar factories on the outskirts of Basseterre. Rather remarkably, the train remained in use right up until 2005 when it changed gears and began its new life as a tourist train. You will have to catch a 45-minute bus at La Vallée Station in Newton Ground to complete the tour (included in the ticket price), but it's well worth the effort.
The journey takes you alongside pounding surf, over steel bridges spanning deep canyons and past rippling fields of sugarcane that merge into distant dark-green forests. Along the way, you'll also ride in the shadows of Mt. Liamuiga's volcanic cone and pass small villages that offer a peek into the lives of everyday Kittitians. Included in the tour is guided commentary, complimentary drinks, and comfortable passage in double-decker train carriages.
6. National Museum
Get some insight into the culture of St. Kitts at the National Museum, housed in the historic treasury building in Basseterre, which was built from hand-cut limestone in 1894. Inside you'll find displays ranging from tools used by the island's original Amerindian inhabitants to the elaborate costumes worn during the modern-day Carnival celebrations. This compact museum is nevertheless a worthy intro to St. Kitts – and a local architectural icon.
7. Timothy Hill
Sir Timothy Hill is a quick and simple hike with a payoff of truly spectacular views. If St. Kitts is shaped like a wonky tennis racket, Sir Timothy's Hill is located right at the throat with soaring views of both the Atlantic and Caribbean coasts. Stop at the overlook on top for the obligatory photo; it's the kind of backdrop that will easily trigger Instagram-induced jealousy from your buds back home.
8. South Friars Bay
South Friars Bay is the gateway to the Southeast Peninsula and something of a hidden treasure with fewer crowds than many island beaches. Head to the southern end of this sandy strip where you can let the kids do as the local vervet monkeys do and play in the sand while you order them a lunch of barbecue chicken with plantains, rice, and beans. Get yourself some freshly caught conch fritters and a plate of fish tacos. And sure, why not, a piña colada for after.
9. White House Bay
The secluded White House Bay is a rocky beach with some of the best shore snorkeling on the island. While in the waters, you will take in vibrant reefs teeming with prismatic marine life, including rainbow parrotfish, queen angelfish, and blue tangs. It's also a great spot for beginners hoping to explore a shipwreck, as the remains of a small tugboat are located just a few feet below the surface.
10. Frigate Bay
Frigate Bay is the destination on St. Kitts for paddlers. Be sure to rent glass-bottom kayaks for a two-hour paddle along the perfectly placid waters of the Caribbean Coast. The kayaks fit one adult and one child comfortably, and offer incredible views of the coral below. Before you leave Frigate Bay, make sure to shop for some island-made art at Les Mains D'Or Pottery Studio. Local potter Arlene Skerritt works wonders with her hands, molding elaborate bowls, mugs, vases, and serving trays out of humble clay. You'll also find imaginative island-inspired wall hangings (think flying seahorses and pucker-lipped fish) as well as few framed paintings. If you need a one-of-a-kind souvenir – or a present for someone back home – this is the spot.
11. Romney Manor
Explore 400 years of island history at Romney Manor, located in Old Road Town, site of the first European settlement on St. Kitts. English settlers came into this area in the 1620s, planting cotton, indigo, and tobacco before moving on to sugar (as evidenced by the water-powered mill). The grounds of the adjacent Wingfield Estate are believed to contain the oldest intact rum distillery in the Caribbean, which was re-discovered in 2013 (archeological digs remain ongoing). Originally owned by Samuel Jefferson (the great-Great-GREAT grandfather of Thomas Jefferson), Romney Manor is today home to the Caribelle Batik, a world-renown textile house where you can purchase decorative wall hangings, kaftans, shirts and fabrics for back home.
After your island adventures, it's time to get back aboard the ship to enjoy all it has to offer — like the AquaTheater or The Ultimate Abyss, the largest slide at sea. Then, it's off to paradise once again, on to your next island destination. Because that's how Royal Caribbean's Symphony of the Seas does vacation.
This article was originally published on