10 Children's Books That Teach Kids How to Handle Tantrums
None, however, come with aspirin for Dad.
by Elijah Brumback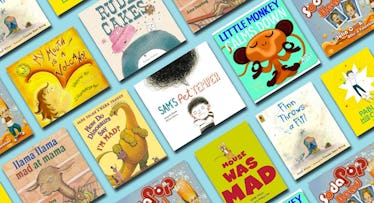 Kids can be terrifying can't they? In the span of mere seconds, they can transform from calm, cooing cherubs to little red faced balls of terror that let loose a rage so fierce it can shake you to your core. Of course, all those foot-stomping, door-slamming, writhing-on-the-floor tantrums are not the result of demonic possession, but rather a developing mind unable to process complicated emotions. To help your kids better understand their feelings, we gathered 10 great children's books that approach the topic of anger in approachable, fun ways. You may still want to invest in some noise-cancelling headphones.
Pablo And His Chair
Pablo unwraps a chair for his birthday and, bummed about his gift, storms off to pout in his room. While in there, however, he learns how to perform tricks on the 4-legged furniture and soon begins a gymnastics balancing routine that enables him to draw audiences and acclaim. Read it to your kids and they'll learn to appreciate all gifts — or at least not whine after receiving another weird polkadot outfit from Aunt Gwen.
Ages: 4 – 7Pablo and His Chair by Dephine Perret ($8)
My Mouth Is A Volcano
We live in a divisive time. But if there's one thing everyone can agree on, it's that people who constantly interrupt are more irritating than a sandpaper thong. This book, in which an excitable boy named Louis wants to share his ideas all the time but whose mouth tends to erupt in a volcanic spew of nonsense, serves as a clever, approachable way to teach kids how to filter their thoughts and why listening to others is just as important as talking.
Ages: 5 – 8My Mouth Is A Volcano by Julia Cook ($7)
Soda Pop Head
Lester is a boy kid but has a shorter fuse than a stick of cartoon TNT. In fact, he explodes so often everyone calls him Soda Pop Head (at least it's a better name than Lester). Luckily his dad is there to offer some fatherly advice about controlling "the fizz." A must for any quick-to-tantrum kids, otherwise known as just kids.
Ages: 4 – 8Soda Pop Head by Julia Cook ($9)
Finn Throws A Fit
Sometimes it's just the little things, like peaches, that transform us into full Mecha-Streisand. Such is the fate of poor Finn. This book's more of an artsy homage to tantrums and the ever-shifting moods of young kids. There's value in that right?
Ages: 2 – 5Finn Throws A Fit by by David Elliott ($17)
Mouse Was Mad
As we adults know, there are many ways to be angry: smashing stuff, slamming doors, rage-eating an entire DiGiorno pizza. Mouse gets mad and is just trying to figure out what works for others (Bear stomping? Hare Hopping?) and why his own little method of diffusion might be best of all.
Ages: 4 – 7Mouse Was Mad by Linda Urban ($16)
Little Monkey Calms Down
Little Monkey Calms Down is kind of like a self-help book for kids in search of their own inner zen master. Written by children's book OG Mike Dahl, who's authored upwards of 200 titles and won a number of awards including the AEP Distinguished Achievement Award, the language itself is calming. And the accompanying illustrations? They're outrageous, bold, and bright, and aimed at the youngest babes.
Ages: 2 – 4Little Monkey Calms Down by Michael Dahl ($7)
Sam's Pet Temper
The amazing pencil-heavy illustrations by Marion Arbona give this book a surreal quality your kid will probably find strangely attractive. But the unique idea of creating an abstract character that embodies the main character's temper to run amok is what really sets this book up for greatness. It's basically The Babadook for kids.
Ages: 3 – 7Sam's Pet Temper by Sangeeta Bhadra ($15)
How Do Dinosaurs Say I'm Mad?
It's a damn good question. And, this book, written in rhyming verse and part of the How Do Dinosaurs series, does a great job with the premise, depicting fairly obscure dinosaurs species being talked down from their romp-and-stomp rages.
Ages: 3 – 5How Do Dinosaurs Say I'm Mad by Jane Yolen ($11)
Llama Llama Mad At Mama
Shopping is such a drag and strangers are weird. Your kid needs to know someone understands this truth. Llama Llama Mad At Mama, also part of a series, speaks directly to the absolutely tortured soul of a child half clinging to your leg, half sprawled on the supermarket floor.
Ages: 2 – 5Llama Llama Mad At Mama by Anna Dewdney ($11)
Rude Cakes
If you're familiar, this book is a bit reminiscent of the Adult Swim show Squid Billies. It's simplistic, doesn't try too hard, and gets to the point about being a jerk. Rude Cakes is fun to look at and fun to say. Calling your kid "rude cakes" is also pretty cute and just antagonistic enough to make them squirm without blowing up.
Ages: 2 – 5Rude Cakes by Rowboat Watkins ($13)
This article was originally published on