The Importance of Spending One-on-One Time With My Kids
"Once we packed up the car and hit the interstate for our four-hour drive, it was like I had a new child on my hands."
by Jimmy Joseph Tran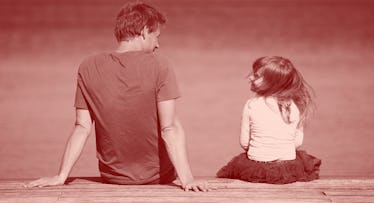 Last week, I took my three-and-a-half-year-old, middle child on a one-on-one "daddy-daughter" trip. It was short, a total of fewer than 30 hours … about a quarter of which was spent confined in a car. I was on a mission, which was to surprise my twin brother, who had just welcomed his first-born child into the world a few days earlier.
Initially, I was dreading the thought of taking my middle child. It was such a short trip and taking a three-year-old meant extra packing, extra stops, and fewer degrees of freedom on music selection. But I'm so glad I decided to do it.
Being a middle child is rough, particularly when your older sibling is the same gender, and the youngest child is the opposite gender. Your parents invariably compare you to your older sibling, often without intending to and of course, everyone is head over heels about your younger sibling. As a middle child, you're often left to your own devices, lashing out to overpower your siblings and gain attention at every possible opportunity.
I feel for my middle child but am also just trying to keep sane with the constant deluge of activity in a busy household. So most days, we simply have to survive and can't bother with over-correcting inherent biases in our children's birth order.
Thus, the significance and importance of a solo trip. Once we packed up the car and hit the interstate for our four-hour drive, it was like I had a new child on my hands. I could see her eyes light up and heard a different tone in her voice. She was the center of attention and soaked up every bit of it. I also noticed myself feeling calmer around her, enjoying her presence more, and just generally appreciating her more.
I was first exposed to the solo trip idea when my wife and I were on our honeymoon in Zanzibar (east of Africa) over ten years ago. On the plane, we met a dad with his eight-year-old son. They were on their own "daddy-son" trip, apparently something that this father did with each of his three kids. The father let his kids do all the research, pick a location, coordinate activities, etc. — even if it meant a trip from Washington, D.C. to some remote island off the coast of Zanzibar to go scuba diving! This is an extreme example and kids were still far off in our plans, but this experience etched the importance of parents (especially dads) spending one-on-one time with their kids.
My daughter and I didn't quite make it to Zanzibar, but our little trip was still special. My hope is that it becomes a lasting memory that becomes etched in her mind, in the same way that dad with his eight-year-old son left a lasting impression in my own mind.
This article was syndicated from Medium.
This article was originally published on