Why Does Child Care Cost More Than College? No Programs for Parents.
It's an existential question for many working parents, but the answer is simple: Lack of effective government programs.
by The Conversation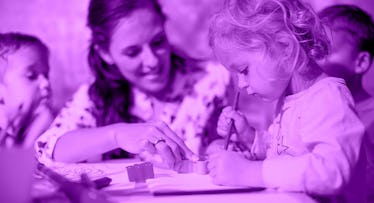 Amid the continually rising cost of tuition, the idea of free college has received growing attention over the past few years. For instance, from 2014 to 2017, 35 states took up 80 bills related to free college.
Early care and education has also received attention, but it could be given more, especially when you consider how child care for infants costs more than tuition at four-year public colleges in 28 states and the District of Columbia. Similarly, child care for 4-year-olds costs more than public college tuition in 15 states and the District of Columbia.
The reality is that child care in America is expensive and out of reach for many families. Whether center-based or family child care, the average cost of child care nationally exceeds US$8,600 per year.
By comparison, that is more than double the estimated average net tuition and fee price of $4,140 paid by full-time in-state students at public four-year institutions in the 2017-18 academic year.
There are other good reasons why child care affordability should get just as much attention as college affordability, if not more.
For starters, families typically use child care for five years per child – a year longer than earning a bachelor's degree is supposed to take.
A Matter of Timing
Further, child care lacks the financing options, such as loans and grants, that many middle-class families use for college costs – and this despite the fact that parents don't have years to save for child care like they do for college. Additionally, child care costs are typically highest during families' lowest earning years.
For low-income families, public early care and education programs provide limited benefits, but the system is underfunded. For example, only 40 percent of 4-year-olds from poor families attend Head Start and only 4 percent of infants and toddlers from poor families attend Early Head Start. In 2012, only 25 percent of eligible children received child care subsidies. In 2016, 20 states had waiting lists or frozen intake for child care assistance, and many low-income families remain confused about eligibility requirements and the application process.
The federal child and dependent care tax credit – which allows parents to deduct eligible child care costs from their taxes – is capped at $3,000 for one child and $6,000 for two or more children, and is not refundable, meaning it does not benefit the lowest-income families that don't earn enough to owe taxes. In 2015, the average credit was $565 – a drop in the bucket compared to child care expenses.
What results is that families with children aged 5 years or younger spend an average of 10 percent of their income on child care. Families that live in poverty spend 30 percent of their income on child care.
Over the last decade, several states and cities like New York City, the District of Columbia and San Antonio have created public preschool programs that serve children from low- and higher-income families. Georgia and Oklahoma were the pioneers on this front, beginning their universal prekindergarten programs in the 1990s. Also in recent years, five states and the District of Columbia passed laws to create paid family leave programs. Both universal preschool and paid family leave programs are important for promoting children's development. But what warrants much greater investment and policy attention is the gap between age 8 weeks – when parental leave ends – and ages 3 or 4, when preschool begins.
Learning Gaps Start Early
High-quality care during the infant and toddler years is particularly important when you consider the research that shows the most rapid period of learning and brain development takes place during the first three years of life. There is growing evidence that the gaps in test scores between children from low-income and high-income families begin well before students enter kindergarten.
One likely contributor to these achievement gaps is the gap in center care and preschool attendance between children from low- and higher-income families. For instance, in 2005, 22 percent of 1-year-olds from families with moderate incomes attended center-based care, compared to just 11 percent of 1-year-olds from low-income families, federal statistics show.
Decades of research show the many benefits of high-quality early care and education. Right now, unequal access to high-quality child care is exacerbating social and economic inequality. Speaking as a researcher in the field of child care for more than a decade, I believe that access to high-quality early learning opportunities needs to be expanded to narrow achievement gaps.
Labor Costs and Salaries
So how is it that it costs more to drop your baby or toddler off at day care than it does for your young adult child to attend college?
It's not that child care teachers are paid generously. The median hourly wage for child care workers was only $10.18 in 2016 – less than the median hourly wage of $10.45 for parking lot attendants. Many earn salaries so low they are eligible for or receive public assistance.
But it is still the cost of teachers that makes child care cost more than college. The majority of child care expenses cover labor costs. That's because child care teachers – for numerous health, safety and developmental reasons – are only permitted to be responsible for small groups of children. The allowable child-to-teacher ratios vary from state to state. For example, Early Head Start programs require ratios of four infants to one caregiver and cap class sizes at eight children.
Simply put, many ordinary business principles – such as increased productivity among workers or economies of scale – simply do not apply in the world of child care.
Greater Investments Needed
So what can be done to both improve the quality and increase the affordability of child care? My co-authored book, "Cradle to Kindergarten: A New Plan to Combat Inequality," provides a comprehensive plan for doing so. The book recommends a mix of paid parental leave, enhanced child care subsidies, universal preschool and a reimagined Head Start to begin at or before birth.
At a minimum, I believe there should be greater investment in the early years, particularly in expanding the child care subsidy system to serve more children and families and to pay child care providers amounts that reflect the price of high-quality care. The additional $2.9 billion for the Child Care and Development Block Grant program included in the recent budget deal is a great first step, and could serve an estimated 230,000 additional children in 2018.
States should use these funds to support child care for infants and toddlers, the group for whom care is most expensive and hardest to find. States could also use funds to help train and retain high-quality teachers, including providing compensation that matches their educational qualifications.
But this is just a down payment in what needs to be a sustained, substantial effort. Parents and their employers lose out when kids attend low-quality, unreliable child care. When child care breaks down, parents can't work. A recent report from Louisiana estimates that the state's economy loses $1.1 billion a year due to child care issues.
Policymakers increasingly recognize the need for more affordable child care. For example, Sen. Patty Murray's Child Care for Working Families Act, introduced this past fall, would ensure that all low-income families and many, if not most middle-class families, would pay no more than 7 percent of their income on child care.
As elected officials debate potential investments in infrastructure, child care should be seen as an essential part of the equation. Just like transportation, workers need child care to get to work. Employers and the public have vested interests in ensuring that the workers and taxpayers of tomorrow receive high-quality early care and education today.
This article was originally published on The Conversation by Taryn Morrissey, Associate Professor of Public Administration and Policy, American University School of Public Affairs.
This article was originally published on