Still Wondering What to Give Up for Lent? This Interfaith Leader Writes Letters to His Daughters Instead
Renouncing candy has its merits, but this practice will be much more satisfying.
by Brian Anderson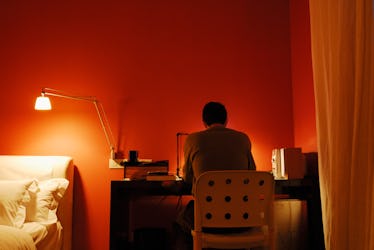 Getty Images
Most people give something up for Lent, if they do anything at all — that's the tradition. And it's usually sweets, alcohol, or other vices. As a kid, my favorite was chocolate. One year, I was ambitious and gave up Nintendo, which my Dad supported by removing the console from my room and hiding it in the house somewhere. (I think he secretly wanted to play Tetris and Dr. Mario, but I have no real proof of this.) Then, as I got older and reflected more on this liturgical season, the sacrificing of a vice, while an important practice, seemed to just scratch the surface.
In my mid-20s, I was dating someone who told me she wrote letters to her friends and family during Lent. It was a spiritual practice that challenged her not to sacrifice a vice, but to sacrifice her time by devoting it to loved ones. I was pretty smitten with her, so I did it, too.
Our relationship would eventually end, but the spiritual dimension of letter writing had struck a chord with me, and I continued to write letters during Lent and beyond for several more years. In graduate school, I got lost in my classes, my assistantship, and my social life, and instead of keeping the spiritual practice as a foundation, I let it slip.
I wouldn't pick it up again until many years later, after I became a father. I had confided to my spiritual director that I was floundering with all the responsibilities of marriage, kids, and work, and my daily meditations weren't cutting it. Knowing of my Jesuit education and appreciation for Ignatian spiritual practices, she said, "you know, St. Ignatius wrote thousands of letters to his fellow Jesuits. What if you turn your meditations into letter writing?"
She hadn't known of my past flirtation with the practice, but with Lent approaching, I took her suggestion. I would write a letter a day to my daughters for all 40-plus days. In case you were wondering, I jump into the deep end of the pool instead of wading in and I train for marathons instead of 5K fun-runs.
Last year, my daughters were 18 months and 4 years old. One was forming actual words while the other was on the verge of reading. With these milestones and other developmental leaps in their growth, I figured this would be a way to capture the exciting and mundane aspects of our lives.
I challenged myself to write a minimum of 250 words a day that I would publish on a Medium account to hold me accountable. At first it was easy. I had lots of moments stored that I would use for my letters. Then, after about 10 days, it got harder. I had work trips and conferences to attend. I caught a cold and felt worthless. And some days, I just didn't have the inspiration to write; I would sit there staring at my computer struggling with something to write about.
In the end, I got through it without missing a day, then promptly stopped. I would still make notes about what I would want to write about, but after 48 days, I was exhausted.
Then, this year, Lent started all over again and I realized how much I missed the daily practice and online accountability. I decided to do the challenge again with the same parameters, and with a slightly different mindset.
I did some research into the spiritual practice of letter writing and made a pledge to the content and storytelling that goes into each letter. By doing this, three things have emerged for me.
First, letter writing is a slow, deliberative process that creates contemplative space. Having worked in Jesuit higher education for some time, I've used the term "Contemplatives in Action" to push students to reflect on their social justice commitments. I used it with such frequency in connection to social justice work that I failed to see that as a dad, I had to be a "Contemplative in Action" for my daughters. To raise them to be fierce, independent feminist leaders with an eye toward helping their community, I had to ensure that I was intentional in my fatherhood duties. Writing these letters has allowed for that space and time.
Second, letter writing allows for revisions. Sometimes, I get tongue-tied and don't always say the right thing or even make sense, especially after a long day of work. Other times, I get angry and shout, which never leads to healthy dialogue with my daughters. These letters allow me the chance to take stock, review my missteps, and revise my actions for the next day. Much of what I write never makes it into the final letter, but taking the time to review my mistakes helps me to avoid them the next day.
Third, letter writing is a gift (and sacrifice) of time. As I wrote earlier, I'm busy. We are all busy. As our world moves faster with the rise in technology, we expect instant responses to our communications. This Lenten process has helped me to slow down. I take 30 minutes on average to write a letter, which means I'm not watching an episode of television or slipping into an old vice in video games. It means I'm giving my time to my daughters in ways that I hope will pay off one day, in the far future when they're older and mature enough to appreciate my letters (I hope!). Until then, I'll keep writing these letters for them.
And I'll keep writing these letters for me, because the fourth thing that has emerged is that these letters serve as a means to remember my past adventures, relationships, and life experiences I wouldn't normally think about. Sure, I have old photos and journals, but will I ever go through all the boxes in my basement? Probably not.
Brian Anderson is a husband, father, writer, and interfaith leader. During the day, he works with student leaders at the nonprofit Interfaith Youth Core, and at night, he writes about fatherhood.
This article was originally published on