Coping With Covid Stress is Hard For Kids. Play Therapy Can Help.
Children don't have the words to express their feelings. Play can help.
by Ashley Abramson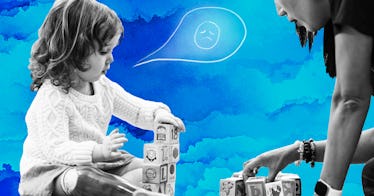 As COVID-19 continues to ransack the country, so does stress. Juggling their own responsibilities and well-being amid 24/7 care taking and social isolation, many adults are subject to new mental health strains. According to a recent survey by the Kaiser Foundation, more than half of American adults say worry or stress related to the coronavirus has affected their lives.
Children are also vulnerable to the effects of stress, even if they may not show it the same way. "If you're a child who has not experienced additional stress as a result of the pandemic, then you're in a really unique situation," says Jennifer Taylor, a play therapist in Hawaii. "There are different ways kids experience this stress, but in every way, the pandemic has created new things for kids to cope with."
To manage their own mental health, many adults are seeking out support and resources like psychotherapy. But unlike their parents, Taylor says children don't always have the words to express what they're feeling or experiencing. That's why play therapy can be so helpful.
What Is Play Therapy?
Play therapy is a therapeutic approach that allows kids to express their feelings through play. Taylor describes it as a "method of providing mental health services to kids in a way that's developmentally appropriate and in a language they understand." It's particularly useful for kids dealing with anxiety and depression, but can help kids cope with a number of difficult-to-reach emotions. Traditionally, therapists recommend a play-based therapy approach for kids between ages three and 11.
"That's the age bracket where kids express themselves and communicate what's going on with them primarily through play in response to toys in their lives or toys in a therapist's playroom," adds Taylor.
Oftentimes, kids see play therapists on their own, without parents. Parents and children can also attend sessions together, so therapists can coach parents on how to manage behaviors. Some therapists might even bring in siblings, depending on what challenges the family is facing.
How a play therapy session goes depends on the issues a child is facing and the type of play therapy a therapist practices. Some play therapists take a more directive approach to guide the child in play, which can speed up the process, while others allow kids to lead the way. And while some play therapists focus on helping a child manage the physical manifestations of stress, others take a more cognitive approach.
Regardless of approach, the goal of play therapy is always the same. "Through play, we can get to know the way kids naturally behave and experience the world from their point of view," says Taylor. "Then we use that information to help them digest, process, and cope with the things that are overwhelming them."
How Play Therapy Helps Kids
Through play, therapists can get a glimpse of a child's inner world, expressed in their own language. Unlike talk therapy for adults, a play therapist may not even speak to the child about their anxieties or behavior issues (unless, of course, the child brings it up).
Heather Fairlee Denbrough, an Oregon-based play therapist, says she usually allows kids to express themselves however they need to, without asking questions. Not only does this approach help kids release pent-up feelings; it also ensures they don't get overwhelmed.
"The child is the only person who knows what would be too much for them," she says. "They walk me through the story at their pace, and I provide ways for them to regulate their bodies and nervous systems so they can process it."
Other play therapists may encourage more direct reflection on emotional or behavioral issues. Ultimately, Denbrough says, the aim is to help kids process and understand what they're feeling so they can develop new coping skills.
For example, in the context of Covid-19, maybe a kid is struggling with uncertainty. "For that child, a session might be going on a pretend journey where we don't know where we're going," she says. "As we play, the idea of the unknown is something the child can start to get used to, and they get to tell their own story about it."
Play Therapy During Covid: The Tele-Medicine Approach
Usually, play therapy happens in a therapist's office, which is outfitted with age-appropriate toys. But due to the pandemic, many play therapists have shifted to tele-medicine, seeing kids and their parents from home through HIPAA-compliant video platforms.
Taylor says play therapists do their best to mirror how sessions happen in the office so kids can get as much as possible out of a session. The only difference is, they're playing with their own toys and chatting with their therapist through a screen. "Anything and everything that's available in the office is available through tele-therapy, depending on what a person needs," she says.
For kids who are used to seeing their therapists in-office, tele-health can be an adjustment. But according to Taylor, play therapy at home comes with a sort of "home field advantage" for kids. When they're at home, kids might be more likely to express themselves openly, without taking time to "warm up." There's also no commute, which can save families time.
"Sometimes tele-health can be as good as going to the office because you have the familiarity of your own environment and not being worried about getting sick or exposing others," she says. "But the most helpful thing is it's meeting people where they are."
For telehealth sessions, Denbrough says preparing the home environment is key. She has parents set up a laptop beforehand and help their kids choose toys ahead of time. To keep kids visible on-screen, she often encourages parents to lay a rug or blanket on the floor as a designated "play area."
"All this sets up a very safe, specific container so kids can express and engage in whatever play they want to get into," she says.
The Many Benefits of Play Therapy
While play therapy is typically geared toward preschool through elementary school-aged kids, Taylor says many play therapists work with infants and kids 12 and up, and even adults, shifting the mode of expression as developmentally appropriate. For example, older kids might do expressive art projects instead of strictly playing.
Children with mental health concerns are often candidates for psychotherapy support, but Fairlee Denbrough, says play therapy can be a helpful resource for any kid — especially if you're noticing new emotional or behavioral challenges. Maybe an experience that used to be easier for your child now causes major meltdowns. Maybe a child's stress is causing nightmares or trouble sleeping, or more worry than usual.
"If your instinct is something is not right with your kid, you might as well have an evaluation to see if a therapist thinks it will be helpful," says Denbrough. "You know your child better than anyone else ever will."
This article was originally published on