Use This Smart New App To Help Get You And Your Co-Parent On The Same Page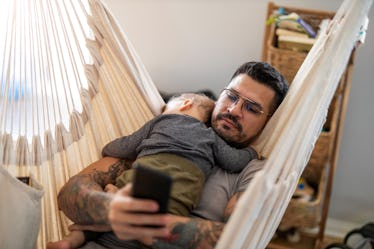 pikselstock/Shutterstock
Parents splitting up is by definition a destabilizing event for their kids, but it is possible to avoid the kind of ongoing parental conflict that leaves a lasting negative impression. A quick transition to a positive co-parenting relationship is better for the entire family, but that's easier said than done.
Thankfully there's a tool that can make things a lot easier. TalkingParents is an app designed specifically to help co-parents create a loving, peaceful support system for their kids. It does this by infusing your co-parenting relationship with mutual accountability, increasing family harmony by improving communication between co-parents. Every feature ties back to this premise. Here are four of the most useful.
Secure Messaging
The TalkingParents messaging interface looks pretty similar to those that already live on your phone, but it has a few key alterations that make it perfect for co-parents. For starters, messages cannot be edited or deleted once sent. That means that co-parents create an immutable, permanent record of their text-based interactions that a judge or other third-party can review if need be. And even if it never gets to that point, knowing that what they say is permanently documented makes it easier to practice restraint even in heated moments, helping co-parents avoid conflict before it begins.
Shared Calendar
Scheduling is much more complicated for co-parents, and the stakes are high — no one wants to make their kid feel forgotten, or make their co-parent mad by missing a daycare pick-up or mixing up custody weekends. Again, the TalkingParents app offers a recorded Shared Calendar that keeps everyone accountable and on the same page with tools for regular scheduling and one-off events like school plays and doctor's appointments.
Accountable Calling
TalkingParents also allows co-parents to exchange phone and video calls. All calls are recorded, and transcripts are automatically generated within the app, so there's no need to disclose your phone number if you don't want to. Like Secure Messaging, Accountable Calling creates an Unalterable Record of communication between co-parents that tends to put everyone on their best behavior.
Accountable Payments
Whether it's court-mandated child support payments or the cost of a new baseball uniform, sending payments through TalkingParents is easy. Everything is timestamped, you can schedule recurring payments, and your financial information remains private. And if there ever is a disagreement about who paid for what, you can always look back at a black-and-white record of all of your transactions.
An app that offered one or two of these features to co-parents would be a big deal, but the fact that TalkingParents offers all of these and more makes it a true game changer.
TalkingParents offers Free, Standard, and Premium Plans to fit the needs of any family. To get started, both co-parents must sign up for accounts and match them through the app. Click here for more information.