The Negotiation: Finding the Middle Ground in Holiday Traditions
When two people from different backgrounds share the holidays, compromises must be made. Your new traditions will be the better for it.
by Ben Radding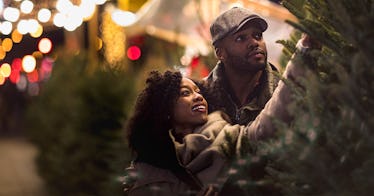 Traditions are the house that holiday cheer built. Dressing the Christmas tree. Spinning the dreidel. Preparing the pumpkin pie. Exchanging gifts. The holidays are all about celebrating our traditions — and each other. But, as new parents and newlyweds are quick to find, a family's holiday traditions are often hard earned. This is especially true when parents come from backgrounds where the holidays mean very different things. One person's Hanukkah is another's Kwanzaa.
It can all get little messy, this melding of traditions for a couple. Karlyn, a supervising producer here at Fatherly, is currently navigating her family's first Christmas together. Their first Hanukkah too. Karlyn comes from a secular Jewish background, and her husband Dave a secular Christian one. Their ten-month-old daughter will soon experience her first holiday season. But what traditions will she inherit?
"I grew up not really religious but very tied to the Jewish culture," Karlyn says. "There's a lot of things that keep you tied to the culture that aren't necessarily religious, so that's what we grew up with." The couple plans to go to Dave's parents to celebrate Christmas. Before that, they plan to take a small vacation, just the three of them. What, exactly, will this all look like? That is still a bit unclear — they only know they want it to be a loving, family affair. This is an excellent first step for any couple. But when it comes down the specific logistics, the negotiation needs to evolve. Here are some pointers on how to productively take two very different pasts and build a shared holiday experience everyone can feel good about.
State Your Position
If you feel strongly about one of your holiday traditions, arguing about them can go a lot smoother by simply using the pronoun, "I." Instead of projecting blame or anger on someone else, it's important to simply state your position from your point of view. People tend to tune out when they're just blamed. When a tradition is really that important to you, it needs to be said — and you need to say it.
Keep an Open Mind
If you're overly objectionable, you may regret it. Take this as an opportunity to learn about your partner's (or their parents') traditions. Be open-minded. Be more inclusive, and try to listen to your partner — and your kid. After all, they may have a preference. Holidays, especially in interfaith families, can be a time of exploration and experimentation. Make it so.
Decide What Matters to You
It's always important to ask: Is it really worth it? Perhaps you have fond memories of dressing your tree with your father, and you want the same experience for your son. If that's important to you, it's worth fighting for. But if there are smaller traditions you'd like to have but just aren't worth the argument, it might be time to reconsider making a row. If dressing the tree can be lost — at least this year, you'll get 'em next year—then maybe it's better to let it go.
Use a Joke or Two
When things get heated during the holidays, it's easy to dig into serious territory. Don't. The holidays are full of cheer and weird traditions. So use jokes when you're arguing. Poke fun at your partner's oddest tradition they hold on to, but do it gently and lovingly. Just because it's a serious argument over traditions in families doesn't mean it has to be serious.
Work Towards a Solution
Instead of digging your heels in, be solutions-oriented. If you're disagreeing about who will go to who's house, be sure not to raise your voice and come out of the argument with an actual plan of action. Maybe you spend Friday at your mother's and Saturday at hers. The idea here is to find middle ground. You're a team, after all.
Resolve Big Disagreements Quickly
If things really fall apart — if an argument over the holidays goes south — don't let it lie. Once you've had the chance to cool off, explain why you were upset, why a certain tradition is important to you, and work to move forward. If you let it fester, it won't help either of you.
This article was originally published on