The Happy Kid Experts: 12 Researchers Whose Advice Parents Can Trust
The experts we turn to time and again for the most authoritative and current intel on raising healthy, happy kids.
by Fatherly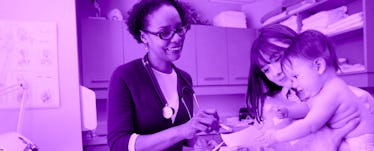 Our parenting information is backed by original reporting with leading experts in the fields of child development, parenting, psychology, medicine, and more. Read on to learn more about the experts we trust the most.
Dr. Dennis Cooley, MD
Pediatrician and American Academy of Pediatrics Fellow Dr. Dennis Cooley notes that parents' concerns over babies spitting up are as common as spit-up itself. It's also perfectly normal. Parents can help reduce spit-up and make meal times less stressful by choosing the right equipment. "Bottle-feeders will want to make sure they have an appropriate nipple that allows breastmilk or formula to flow just right," recommends Cooley. "They'll also want to keep a kid relatively upright during feeding. Keeping them flat, or having a nipple that allows a baby to draw in too much air as they suck can increase spit-up incidents."
Sabrina Freidenfelds
Sabrina Freidenfelds MPH, IBCLC is the director of Then Comes Baby and one of our bottle-feeding experts. Freidenfelds recommends that parents learn to recognize the difference between genuine feeding and the suck reflex, since babies can draw so easily from a bottle nipple. Volume alone won't tell the tale, and neither can the baby. "Babies can't regulate," she explains. "They have a suck reflex and a swallow reflex, so if it's there and flowing in their mouth, they can chug down a bottle way beyond their needs."
Dr. Jay Gordon, MD
Dr. Jay Gordon is a fellow with the American Academy of Pediatrics, a pediatric nutrition expert, and a lactation consultant. He also sits on the Professional Advisory Board of La Leche League and is unequivocal about the importance of breastfeeding. He notes that not only should it start immediately, but it should continue for as long as is possibly practical for mother and child — well after a child is able to specifically ask to be breastfed.
Dr. Harvey Karp, MD
Dr. Harvey Karp is a pediatrician, child development expert, and author of The Happiest Baby on the Block. He's also the founder of Happiest Baby, the smart-tech and parenting solutions company that makes the renowned Snoo Smart Sleeper, an automated crib that helps babies sleep.
The Snoo is based on Karp's famous "5 S's" technique of baby soothing, which is designed to mimic conditions in the womb. Any parent can do the 5 S's, even without a smart sleeper. It begins with swaddling then holding the infant on their side. Once in that position, they can be shushed to, swung gently, and given something to suck. Applied in order, these steps calm a baby and can serve as the foundation to bedtime rituals and sleep training. "It's just balancing what makes kids calmer versus what makes kids feel like playing," explains Karp.
Dr. Rebecca Kempton, MD
Preaching the gospel of consistency, Dr. Kempton, a pediatrician, sleep specialist, infant sleep consultant, and founder of Baby Sleep Pro, urges parents to choose a system and — regardless of what it is — stick to it. The key, she suggests, is making a smart game plan and then executing on that plan rather than experimenting with one-off solutions.
"Every child is unique, and most parents end up using a combination of methods to match a child's needs and temperament," Kempton says. She encourages parents to follow through with the process after making a decision. Taking a break or changing the method will only result in a confused child, a much longer process, and increased frustration.
Dr. Sarah Mitchell, DC
Dr. Sarah Mitchell is a sleep consultant and the founder of Helping Babies Sleep. A strong advocate of shared sleep training responsibility, Mitchell notes that couples need to be careful about their relationships and their own sleep schedules while getting a baby into a routine. Mitchell points out that this is specifically important because babies respond differently to moms and dads. "When you're working on removing the sleep crutch and it's the dad who comes in to do the checks, the baby will typically cry for a shorter period of time," Mitchell says.
Katie Mulligan
Katie Mulligan is a registered dietician nutritionist, childhood feeding expert, and founder of Well Family Nutrition Coaching. She uses coaching techniques to motivate clients towards behavior change and ultimately helps parents learn "control, confidence, and competence," making mealtime a positive and healthy experience.
Dr. Elizabeth Murray
Dr. Murray, a pediatric emergency physician and American Academy of Pediatrics Spokesperson, is an advocate for practical parenting; pumping breastmilk and using a bottle, she says, can help babies who have difficulty latching or sucking — it's nothing to be ashamed of. But parents also need to remember to practice common-sense safety, especially during night feeds. Falling asleep with the baby seems cute, but it's actually quite dangerous and can raise the risk of SIDS. "Just because you're bottle feeding doesn't mean you aren't going to be exhausted as a parent," she warns. "I always recommend that someone set a timer when they're feeding at night. Exhausted parents can still fall asleep if they're sitting in a comfortable chair, or sitting in their bed holding a baby, just like with breastfeeding."
Dr. Larry Noble, MD
Dr. Larry Noble is a fellow with the American Academy of Pediatrics, a neonatologist, and a lactation consultant in New York. He encourages women to breastfeed not just for the nutrition breast milk provides for their children but also for the huge boost it gives in fighting infection.
Dina Rose
Dina Rose, PhD, is a sociologist, parent educator, and author of It's Not About the Broccoli. Her approach to getting kids to eat healthfully is grounded in sociology and the habits of eating, as well as her own experience as a parent. Her research led her to conclude that when parents obsessively concentrate on nutrition, their kids can end up worse for the wear. When they focus on habits instead, kids reap the benefits.
Brian W. Salmon
Certified lactation consultant Brian Solomon has spent much of his career helping dads understand birth and breastfeeding and has partnered with more than 20,000 couples as a doula. He's known as the Birth Guy and is co-author of The Go-To Guide for New Dads. He's a serious advocate for families addressing breastfeeding as a team rather than as individuals. He champions breastfeeding and is also supportive of the emerging practice of chestfeeding, where gender-fluid, trans, and biologically male parents can feed their babies, using adaptive equipment, as needed. "It's a family and it should be a team," Salmon says. "But as I say in my birth classes, whatever works. It's your baby and your decision. If you want to chestfeed, do it. If you want to bottle feed, do it."
Melanie R. Silverman
Melanie R. Silverman, is a pediatric registered dietician and CCO of Pacify, an app that connects parents to nutritionists and lactation consultants. She's worked in neonatal and pediatric ICUs, adult and pediatric burn units, and the high-risk pediatric follow-up clinic at the University of Chicago Medical Center. She specializes in picky eating, poor weight gain, food allergies, Prader-Willi Syndrome, overweight/obesity management, tube feedings, and eating disorders.
This article was originally published on