These 10 Learning Spaces Will Make You Want To Go Back To Kindergarten
Or make you want to send your kid to kindergarten in Japan.
by Aaminah Khan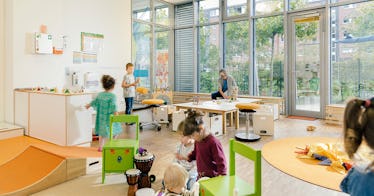 When educators, lawmakers, and " those parents" scream into an echo chamber about what kindergarten should look like in this country, usually they're shouting about educational policy and psychology. Rarely are they discussing what kindergarten literally looks like — but maybe they should be. The 10 examples below prove (11 if you count the extra credit, and you better hand in your extra credit if you want to make kindergarten honor roll) the physical design of an early learning space can have a huge impact on kids' abilities to discover their world, interact with each other, learn a little bit, and actually be kids. Because the biggest problem a kid should have to solve in kindergarten is plain or chocolate milk.
Fuji Kindergarten, Tachikawa, Japan
Takaharu Tezuka wasn't on the list of TED Talks That Will Make You A Better Parent, because he's holding down the one-man list of TED Talks On How To Make The Best Kindergarten. He designed this oval-shaped, infinitely explorable play space/classroom/kid paradise with floating walkways and netting-encased trees that encourage climbing and grow through classrooms, which, by the way, have skylights for playing peekaboo. And no walls. Game, set, match: Tezuka.
Kindergarten Die Katze, Wolfartsweier (Karlsruhe), Germany
You don't have to be a cat person to be a cat kindergarten person. At this German school, round windows are giant eyes, the front door is an open mouth, and a slide in back is a tail that's impossible for kids to yank. The design plays into preschoolers' breadth of knowledge, sense of humor, and demands for a deceptively expensive pet. Not that it cares what kids think. It's a cat.
Airplane School, Rustavi, Georgia
A retired Yakolev Yak-42 airplane has become the most popular preschool in the country thanks to an innovative headmaster who realized that flying with kids is a lot easier without all the flying. The 20-kid class size and growing wait list would actually make this a perfect fit in America, where parents' favorite pastimes include waiting in ridiculous lines for both prestigious grade school admissions and airport security.
Giraffe Childcare Center, Paris, France
It's sort of average otherwise, but when you've got a giant yellow giraffe support column jammed right smack in the middle of your school, right smack in the middle of a city street, you make the list. Bonus points for earning the the green "zéro Energie Effinergie" label and carrying the animal motif with bear and bird sculptures. But, seriously, giant yellow giraffe support column.
Farming Kindergarten, Biên Hòa, Dong Nai, Vietnam
Vo Trong Nghia Architects saw the Fuji School and were like, "Nah, man. Three rings." Their kindergarten is a green roof playground for 500 children of workers at an adjacent shoe factory, on which they grow vegetables and learn about sustainable agriculture. Meanwhile, your kid's over here learning how to take a nap.
Hanazono Kindergarten And Nursery, Miyakojima, Japan
This school embraces its subtropical, seaside environment and its students' tiny, "What's that out the window?!" brains. There are courtyards, terraces, and bridges to eat and play on, with an open ground floor for art and creativity. Second-floor classrooms are brightly colored with chalkboard walls, and the building's facade is a grid of traditional red tiles with loads of different sized square windows to gaze out of.
Handmade School, Rudrapur, Dinajpur district, Bangladesh
This school is part architect project to help a local population maximize their available building resources and skills, and part, well, school. Students learn the same skills as the people building their school, and the cycle continues. Kids get to enjoy private caves, expansive views, and one of the most advanced waterproofing systems in their densely populated rural area. Who says architects are just art school dropouts with tilty desks and fancy rulers?
Ecole Maternelle Pajol, Paris, France
Architects Palatre & Leclère took the mullet approach when restoring this 1940s building into a 4-classroom kindergarten: beautiful, vintage brick in the front, Willy Wonka paint job in the back. The interior is equally chocolate factory-esque, from the multi-colored furniture and crazy patterns on the hallways and ceilings, down to the bright red, snail-shaped dividers in the bathroom. Not pictured: Bus driver Toad, hauling the kids to school down Rainbow Road.
Råå Day Care Center, Helsingborg, Sweden
This sand dune-inspired kindergarten in a fishing village appears to rise up directly out of the shoreline. Huge roof and facade windows let in light all year and provide awesome sea views, and rooms are simply divided by glass-paned plywood bookshelves to maintain openness. The playground is basically a giant sand pit, because kindergarten on the beach is the best.
Boat Kindergarten, Stuttgart-Luginsland, Germany
If the last place you expected to find a shipwreck was the German countryside, you have at least one thing in common with Behnisch architects. This is basically a typical kindergarten, except students can storm the deck every morning like a gang of tiny pirates. If you wished you could do that at work every morning, you have at least one thing in common with pretty much everyone.
This article was originally published on