The 11 Best Expert Parenting Tips on Socializing Kids
Here's what researchers, scientists, and experts recommend doing to help your child socialize.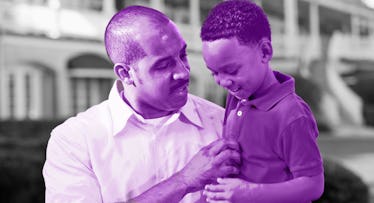 When it comes to socializing kids, practice makes perfect for all concerned (parents need to get socialized too!). Introducing children to the ins and outs of basic social interactions can be a long, complex process, and instilling proper habits should start between you and them at home. Following proper behavior like saying "thank you" and communicating openly at an early age helps teach a child what's expected of them when they interact with new friends. It also teaches them what behavior they themselves should not accept from others. As such, socialization works best as a series of building blocks where the right behavior is reinforced at every step, helping ensure that children are more able to transition from needing supervised social activities to being able to socialize on their own.
Here's what researchers, scientists, and experts recommend doing to help your child socialize.
READ MORE: The Fatherly Guide to Socializing Kids
Socializing Kids Rule #1: Keep an Eye Out
Supervise playdates so that bad habits aren't accidentally reinforced.
Play between a toddler and a parent can give the child some practice accepting new ideas as a natural consequence of social interaction.
Encourage the toddler's fighting spirit without encouraging obnoxious behaviors likely to do social damage down the line.
When playing with a child, a parent can institute a simple rule: No one can say "no" to another's ideas. Instead, everyone will say "yes," and if they want to direct the play, add something new with an "and."
Socializing Kids Rule #2: Playdates Matter
Arrive early to social activities. Showing up to a new situation or environment early allows a shy child to get acclimated, as well as feel as if the newcomers are joining them.
Encourage neighborhood play by taking walks to playgrounds, letting your kids play in the yard often, and saying hi to your neighbors. Research says kids with proximity friendships create more opportunities to socialize more frequently, explore, and play freely.
Encourage your shy child to speak first, and with a planned statement, when in public. Speaking first or early is easier than waiting your turn.
Normalize sharing. Structured scenarios can help kids grow comfortable with sharing and help them see there's no need to be paranoid.
Socializing Kids Rule #3: Prepare for School
As the start of school approaches, look for signs of anxiety and address them. Whether or not your kids show signs of worry, spending at least a week preparing for the school year with your child — including making them more familiar with the school itself — will go far.
It's one thing to tell a child that when they get into kindergarten they need to pay attention, listen to the teacher, and behave themselves. But it's better still that they come to an understanding of why these things are important in their own home with the adults that are already in their lives.
If parents want their kid to understand the value of resilience, manners, and rule-following, they too need to say please and thank you, react calmly to failure and stress, and be consistent with rules while also paying attention to their child.