The Art of Creating Your Perfect Pregnancy Announcement
A creative pregnancy announcement is within reach. Here's how to make one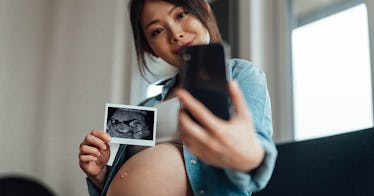 This story was produced in partnership with Huggies.
You're having a kid—congratulations! Once the pregnancy passes a certain point, you'll probably want to start telling folks outside of your immediate support network. That can mean making a series of repetitive calls that can take a long time. A quicker, easier way to get the good news out: create a pregnancy announcement to send out to the world via email or social media.
In addition to saving time, a pregnancy announcement is a chance for you and your partner to flex some creative muscle, augmenting the exciting, great news that your family is growing with a clever, funny, touching, or otherwise compelling pregnancy announcement.
There a few common themes, trends, and techniques that couples use when crafting their pregnancy announcements. They are all approaches you might take, but don't feel constricted. Every parent-to-be should feel free to mix or match elements, use them as inspiration, and/or ignore them. The idea is to create a pregnancy announcement that properly captures their personality and excitement.
If you're newly pregnant and at something of a loss for what your pregnancy announcement should look like, here are a few factors to consider. Once you've decided where you fall on each of these questions, you'll be much closer to a pregnancy announcement that reflects your personality and expresses your excitement.
Words and Pictures
Putting "we're having a baby" or "new baby coming 2021" might get the job done—pregnancy, announced—but many couples like to use images to make the announcement. They're acting in line with the axiom that it's better to show than to tell. And even couples that do written announcements often incorporate wordplay or physical signs (instead of text added electronically) to make things a tad more visually interesting.
Tone
Pregnancy announcements can be serious, hilarious, or anywhere in between. On the former end of the spectrum are the super romantic ones (e.g. a couple staring into each others' eyes while one holds an ultrasound up to the camera) and others that reference rainbow babies, a common term for babies conceived after a miscarriage. The funny ones poke fun at the indignities of pregnancy (e.g. a mom-to-be looking longingly at a glass of wine), parody pop culture (The Office is a common source of inspiration), or rather crudely reference the sex that made the baby.
You probably already have an idea as to which way you'd like to go, but calibrating the final product to be just as funny or serious as befits your family's vibes is a consideration you shouldn't skip over.
Siblings and Pets
A toddler smiling while wearing a Big Sister onesie is a tried-and-true way to announce a pregnancy, likely because it's automatically cute. If your next baby isn't your first, and you want to make your other(s) feel involved in the pregnancy that's inevitably going to disrupt their lives, incorporating them into your pregnancy announcement isn't a bad idea.
And while we wouldn't conflate having a kid with having a pet, animal lovers often incorporate their beloved pets into their pregnancy announcements.
Seasonality
If you're having your baby on or near a major holiday, you can incorporate that holiday into your pregnancy announcements. Think sparklers for a Fourth of July baby, pumpkins for a Thanksgiving baby, or a Santa hat for a Christmas baby. And beyond specific holidays, lots of couples like to add seasonal symbols—a sand castle for summer or changing leaves for fall—to give their announcements a sense of temporality.
Personality
The one thing all successful pregnancy announcements have in common is a real sense of personality. As long as yours is a reflection of you, your partner, and the energy you're bringing into parenthood, then you've done your job.
This article was originally published on