Matthias Giraud: A Letter to My Son About Facing Fear, Embracing Risk, and Finding Fulfillment
Fleeing from negative emotions is an act of cowardice that can haunt you for your life. Embracing your fears is not just an act of courage, but the only way to find yourself.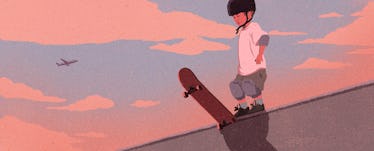 Peter Phobia for Fatherly
Fatherly's Letters to Boys project offers boys (and the men raising them) guidance in the form of heartfelt advice given generously by great men who show us how to take that crucial first step in confronting seemingly unsolvable issues — by offering honest words. Read all the letters here, or share your own.
Dear Sören,
When I was a kid, my dad talked a lot about the good days. Those days preceded the birth of his four kids and medical school. During the good days, my father was a paratrooper in the 9th Shock Commando Unit of the French secret services. He jumped out of planes and blew up tanks. He served. He had dreamt of becoming a pilot — as a child he could tell Messerschmitts from Spitfires — but he had a blown eardrum so he had to settle for jumping out of planes rather than flying them.
My dad was born in 1939. Those post-WWII years were a time of duty, not self-actualization. He did the right things, providing for his family, saving lives as a doctor, furthering medicine with his research, and leading a good life by the standards of the time. But he had many regrets. I admired him tremendously but learned early that I didn't want to share that trait. I wanted to be airborne on my own terms.
My line of work is a dangerous one. That's no small part of why I do it. It makes me feel scared, thrilled, and alive. My father wanted to do things that scared him and settled for things that didn't. I live with fear and embrace it. It's there to empower, not impair you.
I recall a BASE-jumping trip in the U.K. After jumping all night off bridges, silos, windmills and dodging security, we committed to one more jump off a 1,000-foot radio tower at sunrise. After climbing for an hour with no protection, I put my parachute on but struggled to relax due to mental and physical exhaustion. I shared my emotions with my jumping partner and told him, "I haven't jumped an antenna in eight years; it's kinda getting my heart going, honestly." He answered, "That's what we do it for." Fear is good. It's useful. It's what motivates me to plan, manage my risk, and prepare myself. I face death every time I leave home to go big mountain skiing, ski mountaineering, or BASE jumping. But death is normal. A strong man accepts his mortality but isn't defined by it. Every time I jump, I face death. I don't pretend otherwise.
I was 18 when I lost my sister. Her death was traumatic, but it also gave me a push. The death of a loved one can be a gift, a reminder of the biggest emotions and challenges. I may die on a jump. I hope that if I do, you don't think I abandoned you or become cautious yourself. If I die, please remember that I had the courage to reach for my goals, no matter how terrified I was.
I see so much of myself in you, especially as you drop into a half-pipe on your skateboard. You're not like other 6-year-olds and that warms my heart. I know you will not settle for mediocrity in your life. You will make wise yet courageous decisions. Even now, I see you are stronger, sweeter, and way more compassionate than I am. You have a gift for understanding the world and your emotional intelligence will help you create yourself repeatedly over the years while impacting people around you positively.
No matter what happens and no matter the cost, get as much fulfillment as you can from life. Don't ever apologize for how you feel. And don't ever let fear stand between you and a passion. You are in charge of your own existence.
Love,
Dad
Matthias Giraud is a world-renowned BASE jumper, ski mountaineer, and ski-BASE jumper who recently successfully jumped off of the Pointe d'Areu in the Alps. His biopic, which includes snippets of the full letter he wrote to Sören before his latest, most dangerous jump, will be out this summer.
This article was originally published on