How to Prevent Child Abductions and Kidnappings
Child abduction statistics suggest kids are significantly more likely to run away with someone they met online than be abducted off the street by a stranger.
by Matthew Utley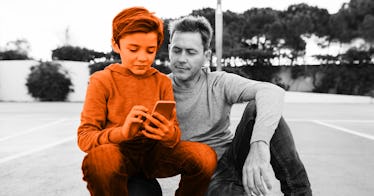 Child abduction prevention throughout the eighties and nineties focused on "stranger danger". But child abduction statistics suggest that since the dawn of social media, the threat has changed. Out of 27,000 cases of missing children in 2017, the National Center for Missing and Exploited Children has identified one percent as non-family abductions. The vast majority of them – ninety-one percent – are endangered runaways, and in many instances, they are running away with someone they've met online who isn't what they claim to be.
"They know how to identify the most vulnerable victims and what techniques to use to groom children into sending nude images or videos to them," warns Clayton Cranford, one of the nation's leading law enforcement educators and the author of Parenting in a Digital World. "In some cases they can manipulate the child and build a relationship, resulting in the child voluntarily meeting or running away with him."
By grooming the child in this way, predators convince children to come to them. The truth is that kids are very rarely "grabbed." What does this mean? Essentially that emotionally needy kids are at the most risk — and this is specifically true of tweens and teens. Low self-esteem can drive them toward a sympathetic ear without anyone really knowing who is behind that ear. Adolescence is a famously awkward time rife with terrible decision-making. Even when adolescence isn't awkward, girls, in particular, are susceptible to confusing and dismaying messages about their bodies. And they are starting to push back against parental authority and try to exercise some independence. Positive comments and sympathy from an online predator may seem like an encouragement or flattery to the child, but they're planting seeds of alienation.
"Online predators look for children who are emotionally vulnerable or who do not appear to have a stable home life," says Cranford. "Children share their thoughts and feelings freely on social media. It does not take a predator long to discover who is having problems at home or problems with key relationships in their lives."
"The predator begins building an 'us-versus-them' relationship that drives a wedge between the child and their parents," says Cranford. "What makes this so dangerous is that the victim – the child – helps conceal the relationship from their parents."
To prevent this, Cranford suggests taking active measures to set rules about internet use.
"Having an open conversation with your child about potential threats, and what to do if they encounter a problem is the key safety factor in your child's life," suggests Cranford. Speaking to kids about what is appropriate and isn't appropriate might give them a baseline to judge anonymous interactions.
Parents can also restrict inappropriate apps or platforms. Many apps or sites have a minimum age requirement; parents should heed them. Many devices allow parents to limit what their children can access. "Use the device's parental controls to filter content and to lock out their ability to download applications without your permission," recommends Cranford.
Preventing Child Abduction
Abductions on the street are rare: Out of 27,000 cases of missing kids in 2017, one percent were abductions by someone outside of the family; ninety-one percent were runaways.
Predators are sophisticated: They know how to manipulate a vulnerable child until she wants to leave. The child winds up meeting their abductor voluntarily.
Talk about cyber safety: Set rules for children so that they know what appropriate and inappropriate use of devices are. Make sure they know what the punishment is going to be, too.
Restrict inappropriate apps: If a child is younger than the minimum age requirement, they probably don't have any businesses using it yet. Parental controls can help filter and block inappropriate content and use.
Install parental control applications: There are a number of wireless routers and paired devices that allow parents to control and monitor a child's usage.
But even social media designed for kids isn't necessarily enough to protect kids. Parents should have an active role in their kid's screen time and device use. Parental controls are pretty sophisticated these days. If that isn't enough, or those other steps reveal some troubling habits, parents still have the option of confiscating the phone and searching it.
"Take your child's device from out of their hands, and while they are watching you, go through all their text messages, browser history, and social media images/posts," says Cranford. This may seem like a drastic or controversial tactic, but then again, many of these devices are paid for by parents, and if it is done calmly as a regular part of internet usage it's totally reasonable.
Finally, parents should take some time to just be with their children. Once they reach school, there's a lot going on in a kid's life that their parents won't know about. Asking too many questions is probably less effective than being there and being engaged. Giving kids space to be comfortable and share what they need to will probably help smooth many of the contests of will that mark growing up.
This article was originally published on