How to Prepare for a Parent-Teacher Conference
Be ready to listen, and be kind. Kids are better off when the parent-teacher dynamic is collaborative.
by Matthew Utley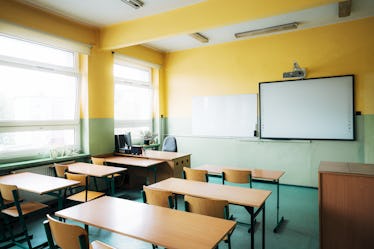 Nikada/E+/Getty Images
Parent-teacher conferences get something of a bad rap, living as they do at the busy intersection of parenting, time, and stress. But as one of the few opportunities adults in a kid's life have to talk face-to-face, it's an opportunity to foster relationships, talk through expectations and challenges, and make sure kids have everything they need to succeed. A parent-teacher conference is nothing less than a collaborative roadmap toward good outcomes. And that roadmap is most effectively forged when parents prepare for parent-teacher conferences with insights about their kid, an idea of what to listen for, and an awareness of what not to say.
"Conferences can be intimidating for both parents and teachers, but they don't have to be. It's a time to be collaborative, confident, and to communicate clearly," says Amanda Morin. Morin has over 10 years' experience as a classroom teacher and early intervention specialist and is the author of The Everything Kids' Learning Activities Book. "Parents have information about their child and family that is important for the teacher to know — things like how homework is going, what their child thinks of school, and their child's interests and challenges."
This exchange of information shouldn't be a one-way street. Children often behave differently at school than at home and teachers can provide the information that parents may need to understand those behaviors. Parents who have questions or concerns probably already know the questions they want to ask, but it's worth it to check beforehand with a spouse or co-parent about what topics they want to be discussed. These topics can be about individual experiences of their own child, or experiences of the class. Trying to discern information about other students or parents is not appropriate. Also, it has little to do with your kid's well-being.
How to Prepare for a Parent-Teacher Conference
Be a Team Player – Teachers and parents can lift each other up or make each other miserable. View this meeting as a problem-solving opportunity.
Plan the Questions – Parents should discuss with each other if there are specific concerns or questions they want to raise.
Be Ready to Listen – Teachers have a unique insight to how a child behaves in a different structure and around their peers.
Follow Up – If there is an assessment or recommendation that isn't clear, ask follow up questions.
"Parents should ask parent-teacher conference questions about their child specifically, not about how he compares to the rest of the class," advises Morin. "Your goal is to know about your child's progress, to make sure he's learning and has all the support he needs to do so."
Some questions that Morin recommends parents ask include:
What major concepts or skills will you be focusing on this year?
Do you think my child has a good sense of what he does well and where he needs some help?
What systems can we use to communicate more regularly?
Do you have any suggestions for what I can do at home to reinforce learning?
Do you recommend I speak with anyone else at school about my child's progress?
And if parents don't understand an answer, they should ask follow-up questions. Many school districts have a lot of resources and programs available to help kids excel, and parents may not be familiar with a teacher's recommendations. The whole point of the conference, after all, is to make sure children are getting what they need to succeed.
"Ideally, you'll have a good enough relationship with the teacher so that any concerns can be raised easily," Morin says. "Teachers, for example, may mention that your child is struggling to focus or follow directions or has trouble in a specific subject. Be sure to ask questions to fully understand the teacher's concerns and to ask what the next steps are to support your child."