How to Get an Older Sibling to Help with a Baby
Kindergarteners probably won't be changing diapers and laundering bedsheets, but their involvement in more manageable baby care tasks can be beneficial for the whole family.
by Lee Murray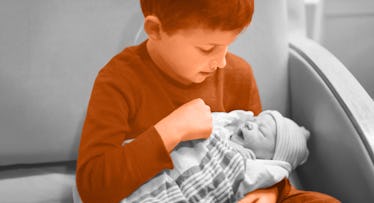 Children can do most chores sooner than parents imagine, and helping out with a new baby is no exception. A new baby necessarily changes the balance of a family, but involving an older kid in childcare does more than just help a dad out. It can assist with the cognitive development of the newborn, have a positive influence on sibling relationships down the road, and ensure that the older sibling feels he or she plays a role in the new dynamic.
"Building those relationships very early on sets the stage for what is happening cognitively later in terms of children's language development," Jennifer Jenkins, a professor of early child development at the University of Toronto, told Fatherly. "It also affects their ability to be empathetic towards other people."
How to Get an Older Sibling Involved in Baby Care
Involve them from the start. Even if they aren't ready to get their hands dirty with diaper changes and bottle feedings, younger kids can still play an important role in soothing and stimulating baby.
Utilize their current skillset. Toddlers aren't going to be much help carrying up loads of laundry, but they are excellent at making silly faces—which is arguably more important for cognitive development.
Highlight their capabilities. Framing a sibling's contribution as being about what they can offer rather than what the baby needs helps them feel recognized and involved in the baby's care.
Create a balance in the family. If older kids feel sidelined when a new baby arrives it can lead to sibling rivalry later. Ensuring they are constantly involved can help mitigate this.
When handing off childcare responsibilities to your children, it's important to be sure all tasks are age-appropriate. "I don't think I'd have them doing diaper changes," Jenkins says. "Tiny babies are too vulnerable." Jenkins suggests parents save tasks like laundry and bottle-feeding for older siblings, and ask their younger children to help with soothing and stimulating the baby—no small task. "With parents being there and then doing all the necessary caregiving, siblings are good for play and stimulation," she says. Indeed, studies have shown that singing, making faces, and playing peekaboo can be beneficial for even very young babies.
Early involvement in a newborn sibling's day-to-day care can also help mitigate sibling rivalry, Jenkins says, and contribute to developing a healthy family culture. "Probably the most difficult thing parents do… is having to recognize all of the kids… and create a balance between all of them," Jenkins says. If there is too much focus on the baby and the older child feels left out, this can sow the seeds for jealousy and rivalry as they both get older. "It's very important that parents of newborns are also giving to their older children," Jenkins says.
This is where involvement in baby care can have a positive effect on a parent's relationship with the older sibling. "If you're saying, 'you're so fantastic at singing songs… can you sing to the baby?' then you are really making them feel that they are recognized, and its not just all about the baby," Jenkins says. "That's different than saying 'sing them a song,' because you haven't put that bid in." This frames the sibling's involvement as an extension of something they can already do well and makes them feel recognized and involved.