How to Find the Table of Required Immunizations for Your Baby
The table of required immunizations is maintained by the American Academy of Pediatrics, but speaking to a doctor can help give parents guidance.
by Andy Netzel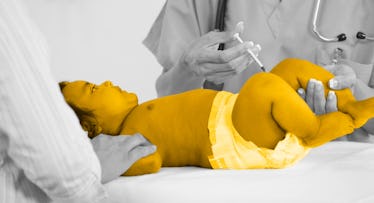 Your children cannot afford to skip or delay any of their scheduled vaccinations. The American Academy of Pediatrics' baby immunization schedule has been carefully crafted by experts, and even temporarily delaying life-saving vaccinations can render them less effective, opening your family up to a host of terrifying diseases.
Nonetheless, parents often insist on asking doctors whether their kids can miss a vaccine or two, essentially implying that some vaccine-preventable diseases aren't all that bad. "They're all dangerous and deadly," Dr. David Hill, a pediatrician who oversees 20 clinics in North Carolina and teaches at the University of North Carolina's Medical School, tells moms and dads who ask these sorts of questions."Would you rather be paralyzed from polio or get lockjaw from tetanus? It's hard to choose. And you shouldn't make that choice."
Below is the standard baby immunization schedule, used by doctors across the United States. AAP also has a made-for-the-fridge version on their website, and most pediatricians are happy to furnish print-outs.
Baby Immunization Schedule
Birth: Hepatitis B
1-2 Months: Hepatitis B
2 Months: Rotavirus, DTaP, Hib, PCV13, IPV
4 Months: Rotavirus, DTaP, Hib, PCV13, IPV
6 Months: Rotavirus, DTaP, Hib, PCV13 and Influenza (followed up with another one every year)
6-18 Months: Hepatitis B, IPV
12-15 Months: Hib, PCV13, MMR, Varicella
12-23 Months: Hepatitis A (Should be followed with a booster 6-18 months later)
15-18 Months: DTaP
SOURCE: American Academy of Pediatrics
Sticking to the schedule is crucial. Unfortunately, the advent of Google and anti-vaccine websites has made it difficult for parents to parse information they find online. This has led to a wave of vaccine skepticism and calls for spacing out vaccinations—both of which are entirely unfounded. "The schedule is created using our best scientific evidence to ensure safety in delivery and effectiveness in protection," says Dr. Natasha Burgert, a pediatrician from Kansas City. "Vaccines that are given too early or too late may not provide the optimal protection for a child. If we are administering a medication, we all want the medication to work as expected."
But Burgert takes questions about the vaccine schedule in stride. Like Hill, she tries to debunk vaccine skepticism while taking time to explain to parents that it's impossible to rank the importance of individual vaccines when all of them prevent debilitating childhood illnesses. "I tell my families that scientists are not going to devote their lives and careers to creating medications that are not important," she says. "All the diseases that are in the childhood vaccine series can kill you. So, it is very hard for me to stratify the importance of the vaccines when contracting any of the prevented diseases can result in death."
Still, Burgert understands that such questions reflect real concern voiced by caring parents who are expressing their fears openly and honestly. In a way, she appreciates the questions. "Pediatricians are child health and wellness experts," she says. "We're here to help navigate worries, fears, and solutions."