How to Do Your Own Newborn Photoshoot at Home
Your baby deserves photos that truly capture their cuteness. Here's how to take them without the fancy camera.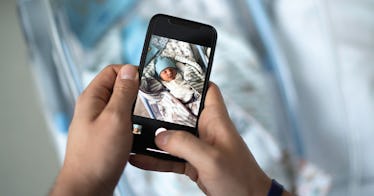 This story was produced in partnership with Huggies.
The first few months of a baby's life are a whirlwind. Parents have to adjust to having a new little one in the house, dealing with the sleep deprivation, worrying, and constant work that comes with it. Being so busy means that it can feel difficult to anything fun, but parents should make at least one exception: taking some great newborn photos.
COVID-19 made it tricky to bring in an external photographer, but waiting simply isn't an option, as newborns quite literally grow up so fast. The good news is that a parent armed with a reasonably new smartphone can take some pretty excellent photographs as long as they follow these pieces of advice.
Find a good spot for your shoot.
The ideal photo location is a place in your house that's blank—you don't need anything distracting from your kid—and bright. The best places have light coming in from at least two angles, resulting in a more even look and fewer shadows.
Get to know your phone's camera settings.
Understanding the basics of photography and knowing how to adjust those factors—things like color temperature, aperture, and shutter speed—on your phone will make your photoshoot much more successful. If you really want to make sure you're getting the best pictures possible, it's not a bad idea to check out some camera apps beyond what comes preloaded with your device, as they often offer more precise settings.
Prepare the space before the baby comes in.
Make the bed, open the shades, remove any wall art, and do anything else you need to do in order to to ready your makeshift photo studio before you bring your baby in. Moving things around when they're already in the room is stressful, so it's best to avoid it.
Turn off all of the lights.
Natural light is the best light, so make sure you're relying on windows and/or open doors to illuminate your newborn. That might mean scrapping a photoshoot if its too dark outside, but your patience will be rewarded with photos that look way better than they would with artificial light.
Use what you have.
A favorite stuffed animal or toy is a great prop, but consider other things that might look good on camera. And while it might be tempting to stuff as much as you can into the frame, the best photos are simple and incorporate between zero and two items.
Take a ton of pictures.
One of the best things about digital photography is that you can never waste or run out of film. So take a ton of photos of each pose you put your kid in, making sure to try different angles for each one.
Adjust before disseminating.
After your photoshoot is over, you and your partner should go through the photos and mark your favorites. From those, you'll probably want to choose a few selects to send out to grandparents, friends, and anyone else who's invested in the life of your tiny human. Try different filters and adjustments for each of those, as a little bit of polish can go a long way to making your smartphone photos look like they were shot by a professional.
This article was originally published on