How Much Does Daycare Really Cost?
Planning your budget for the cost of childcare? It's more than you probably think it is.
by Ben Radding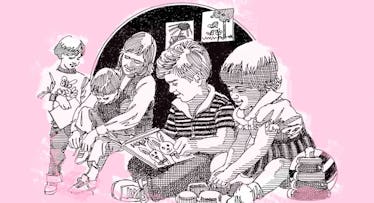 Whether your kid's already been born or is on the way, it's important to start your financial planning. Kids incur all sorts of costs — we don't have to tell you — but a few will sneak up on you and could take you by surprise. After all, having a kid is more like a long-term investment than a one-time cost, and formula, clothes, and diapers won't pay for themselves.
Likely one of the biggest costs you'll find in your future: daycare. Once you and your partner get back to work, daycare is a regular expense and can really hit the wallet hard. "Daycare runs the equivalent of a rent or mortgage payment on a monthly basis," says Mark Boujikan, CFP, financial planner with Keymark Financial. "In many cases, you get what you pay for. Finding cheaper childcare means getting lower quality service, and many parents aren't willing to make that trade off. Instead, they tend to go for higher quality, more frequent, and thus more expensive childcare. So as a parent, you're carrying the rent for your child."
It sounds like a lot—and it is. While it isn't insurmountable, the cost of daycare can vary wildly depending on where you live. "In Fort Collins, Colorado, daycare at a facility typically runs from $300 to $350 week for full day or $200 to $250 for part day," says Lucas Casarez, CFP. When averaged out annually, daycare can cost up to $12,000 in coastal states like California and Washington to nearly $15,000 in New York. Childcare in more rural areas of the country, such as Indiana or Nebraska, can cost around $8,000 annually.
"Daycare costs can vary depending on the type of care," says Krista Cavalieri, CFP, of Evolve Capital. "But for full time care in a name brand establishment, such as Primrose or Goddard, in the state of Ohio the infant room can run $1,500 a month and a Pre-K room can run $1,200." At-home care can cost less—ranging from $330 to $920 per month—but you'll have to go shopping for your own sitter.
If you or your partner plan on getting back to work, you can safely expect to be spending over $1,000 per month depending on where you live on quality, name-brand daycare. But there are a number of strategies that you can employ to start saving.
"Begin planning for this expense during the 9 months leading up to birth," advises Boujikan. "Daycare is one of the largest expenses you will incur in the first year of your child's life. Use Roth IRAs to fund emergency funds if you need. You can take back your contributions—up to $5,500 in 2017, $6,500 if you're over 50—and if you don't need to take the cash or have other means, your account grows tax-free as you invest over time. So, you are able to make effective decisions that weight your child's future and your own retirement future in an efficient manner."
Boujikan adds that daycare can be so expensive that it might not be right for everyone—such as himself. "I have a 1 year old," he says, "and in our case, the cost of daycare was my wife's $50,000 salary. We decided to have her stay home with my daughter because paying for childcare on a monthly basis would have equated to nearly her income after taxes and deductions."
Which is all to say that daycare will almost definitely cost more than you think (no matter what you think). That shouldn't scare parents, but it should incentivize them to start planning as early as possible.
This article was originally published on