This Dad Lost 100 Pounds to Keep Up with His Son
"I can't even describe the high I got when my son would say stuff like, 'Daddy! You look so different!'"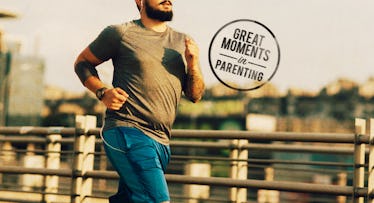 Welcome to Great Moments in Parenting, a series where fathers explain a parenting hurdle they faced and the unique way they overcame it. This time, Samuel, 42, from Florida, tells a heavy story about losing more than 100 pounds up for his son (and himself) and the active life they now share.
"To put it bluntly, I was a pretty fat fuck when my son was born. Other parents told me how much kids run around, but I had no idea it would be as challenging as it was at my weight. I was pushing 300 lbs., tired, achy, and having trouble breathing. My son, on the other hand, only grew faster and more active. So many times, my son would want to go outside to play, or even just run around the house, and I couldn't keep up. I had to make a change – for both of our sakes. My wife was supportive of the idea, obviously, because she knew how hard it was for me not to be able to play with my son.
It started with my diet. I'd put on enough baby weight for both me and my wife while she was pregnant with our son. I guess I just figured, since she could eat whatever she wanted, so could I. She lost the baby weight pretty quickly. And I definitely found it. So the first thing I did was cut out sugar. It was so hard. But, as I started to feel the pounds come off – slowly, but surely – I started to feel little changes. It became easier to follow my son up the stairs. I could push the stroller farther. Stuff like that. I knew this wasn't a change that was going to happen overnight, but those little things kept me going.
As my son grew, I started exercising, too. First it was just walking. Then I got an elliptical. Then I started jogging and going to group fitness classes. I even tried yoga for my joint pain. It took me about three years from the time my son was born, but I was able to lose almost 100lbs, and have kept it off since then.
If I didn't lose the weight, I wouldn't have been able to bond with my son as much as I do. He loves the outdoors. We go hiking all the time. We go on walks in the woods. And all of those experiences are just so special. My son was worth the challenge of the change. I'm so happy to be able to get along physically, and hear my son say, 'Come on, Dad!' instead of 'Why can't Dad come?'
It's hard to say who I made the change for – my son, or myself. I didn't want to look back and know I missed an opportunity to go on a bike ride with him because I couldn't lay off donuts, Doritos, and soda.
One of the coolest things about my transformation is that he became my biggest cheerleader along the way. I can't even describe the high I got when he would say stuff like, 'Daddy! You look so different!' or 'I'm proud of you, Daddy!' I hesitate to say I became an inspiration to him – or anyone – but maybe one day, when he's older, if he's ever in a situation that's troublesome, he'll look back and see the work I put in, the reason why, and decide to make a positive change in his life. I hope so."
This article was originally published on