5 Parenting Lessons From The Global Moms Relay Moms+SocialGood Summit
These parents really do have all the answers.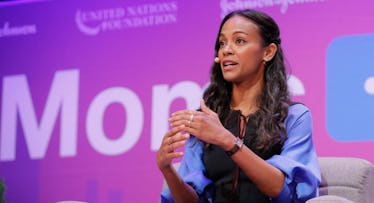 The following was produced in partnership with our friends at Johnson & Johnson, who proudly host Moms +SocialGood to highlight some of the most pressing concerns facing women and children globally, and the role families play in tackling these issues.
Last month, Johnson & Johnson and The United Nations Foundation hosted the fifth annual Moms+Social Good summit, a day-long conference that launches the Global Moms Relay. The relay is a digital fundraising rally to raise awareness and resources for a variety of nonprofits working to improve the lives of women and children around the world. This year's summit saw hundreds of respected, influential, and passionate health care and policy experts, celebrities, activists, and parents come together in midtown Manhattan for a day-long conversation. Those present (and streaming online) were treated to thought-provoking panel conversations and presentations about global issues affecting families everywhere. This year's theme: What do you wish were true for every family, everywhere? There's no one right answer to that question, but here are a few of the big ideas from the folks who tried to answer it.
The Link Between Mothers, Nutrition, and Social Change
Save the Children President Carolyn Miles and stylist and editor Rachel Zoe were the first panelists of the day. Miles recounted her work in four African nations where 20 million people — half of them children — are at risk for malnutrition. "If you get kids to a point where they're stable … their mothers can take [therapeutic] food home and bring them totally back to health." They then teach their sons world-changing lessons. "In the developing world, boys and men make the rules. Changing attitudes of our sons and boys and men globally is how to equal the playing field," said Miles. Added Zoe, "Boys love their moms. It's important to show what we're capable of."
The Power of Healthy, Educated Girls
Dubbed "The Libyan Doogie Howser" by Jon Stewart, Alaa Murabit is a member of the United Nations Sustainable Development Goals Advocacy Group. She called quality health care and girls' education the two most important forces driving change in the world. "Countries are more prosperous when people are healthy, which sounds ridiculous because it's so logical." That intersects with girls' education, she explained, "because millions of girls don't go to school because of something as solvable as a period. Yet when 10 percent of a country's girls are educated, GDP increases 2-3 percent."
The Relationship Between Motherhood and Therapy
Psychologist Dr. Luz Towns-Miranda, a member of the national board of directors of Planned Parenthood Action Fund, stressed the importance of depression identification and intervention even before pregnancy. "If you've got a depressed mom you've got a depressed baby. Within the first 4 months of life, you can predict the attachment pattern that will stay with a child for life." She also discussed mindful parenting through therapy, or, "technical assistance." "Parents need to attune to the particular strengths, weaknesses, and sensitivities of each child and nurture them. When my son had a first major breakup, the technical assistance kicked in." That son would be one Lin-Manuel Miranda.
The Three Things Every Child Needs Most in Their First 1,000 Days
UNICEF Executive Director Anthony Lake and Sherrie Westin, Sesame Workshop's Executive Vice President of Global Impact and Philanthropy talked about the three most vital keys to early childhood development: nutrition, mental stimulation through reading and play, and protection from violence. Or, "Eat, play, love." Their high-pitched but highly knowledgeable guest panelist, Elmo, agreed. He did, however, interrupt to insist that monsters also be included in the discussion.
Parents Need Education as Much as Their Kids
Dr. Purvi Parikh, an immunologist and clinical instructor of medicine and pediatrics, joined actor, advocate, and mother of three, Zoe Saldana, for a civilized discussion of what's become one of the more contentious parenting topics of recent years: vaccines. "Our children and children across the globe deserve at least for us to educate ourselves," Saldana said. Added Parikh, "There is fear, yes, but a lot of it comes from miseducation — and people with large platforms spreading misinformation. I didn't learn that flu can kill people until I was a first-year resident. I took care of a 34-year-old mom with two young kids who died. I was shocked. It was an eye-opening experience."
This article was originally published on