5 Takeaways From The Global Moms Relay Families+SocialGood Summit
Big ideas for solving big problems from the 2017 Families +SocialGood summit.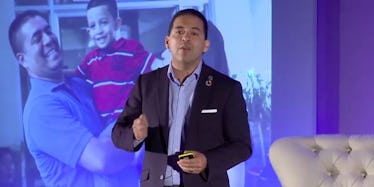 The following was produced in partnership with our friends at Johnson & Johnson, who proudly host Families +SocialGood to highlight and inspire action to tackle some of the most pressing concerns facing the health and well-being of families around the world.
Last month, Johnson & Johnson and The United Nations Foundation hosted the first Families +Social Good summit, a day-long conference that concluded the Global Moms Relay. The relay is a digital fundraising rally to raise awareness and resources for nonprofits working to improve the lives of women and children around the world; this year's edition saw more than $500,000 raised in support of Shot@Life, Nothing But Nets, Girl Up, UNFPA, and UNICEF USA. At Families +SocialGood, health care and policy experts, celebrities, activists, advocates, and parents came together in London for a day of panels, presentations, and conversations about the world's most critical challenges for families. Here are a few of the big ideas they discussed.
A Vision For The Class Of 2030
The day's first panelists were Lynn M. Cronenberger, CEO of SOS Children's Villages in the U.S., and Pauline Miller, Head of Diversity and Inclusion for Lloyd's of London. Croneberger underscored the importance of supporting the one in 10 children worldwide who will become orphaned or abandoned. "Even in refugee camps, access to education gives kids a sense of normalcy." Of the kids who complete the SOS program, she added, "I'm trying to come up with a better word than alums because they didn't graduate from high school, they graduated from a very challenging life." Miller, on behalf of Girl Up, urged, "We need to all have a voice. We all have the ability to make a change, however small. It starts by raising awareness. Talk to a girl who wants to be empowered and feels they could have a voice. Take that message to them."
The Relationship Between Health and the Environment
London's Deputy Mayor for Environment and Energy, Shirley Rodrigues, reflected on the intrinsic link between environmental issues and health inequality. "We know that access to nature helps reduce stress and improves mental health," she said. And that's just the tip of the iceberg. "One in ten households in London suffers from fuel poverty. They have to choose between eating and heating." In response to the increasing evidence that vulnerable groups, including children, are disproportionately affected by this issue, Rodrigues is leading the charge on creating a new environmental strategy for the city.
A Call to End Malaria–From An Unlikely Survivor
TV Presenter and Nothing But Nets supporter Charlie Webster discussed how health facilitates flourishing families, education, empowerment, a break in the cycle of poverty, and improved gender equality. She then told her own harrowing story of contracting malaria during a charity bike ride from London to Rio before the 2016 Summer Olympics, including a reading of a letter her mother wrote her from her bedside while Webster was in a medically induced coma.
The Challenges and Opportunities of Connecting People in Crisis
Greg Barrow, who runs the London office of the United Nations World Food Program, talked about the challenge of keeping people engaged with global crises in a time of growing uncertainty. One way they're doing so: using the global saturation of mobile phones to collect more data and reach more people. "We are way beyond the days of handing out bags of food to people. We're actually giving people digital payments via their mobile phones that they then go redeem at shops and buy their own food. It's a dramatically changed landscape."
Everyone Has The Right To Smile
For Ruben Ayala, the Chief Medical Officer of Operation Smile, Inc., giving access to safe surgery to the billions of people worldwide who lack it is more than work. It's a passion. His mission is to provide the forgotten children of the world with new hope and opportunities. Quoting the father of one of his Operation Smile patients, Dr. Ayala told the crowd, "You don't have to wait for something very difficult to happen in your life for you to understand the power of service and engagement."