The Best Moments From The Dads +SocialGood Summit
It was the first event of its kind specifically focused on fatherhood.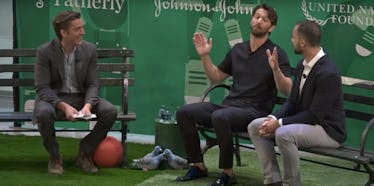 The following was produced in partnership with our friends at Johnson & Johnson, who proudly host Dads +SocialGood to highlight some of the most pressing concerns facing women and children globally, and the role families play in tackling these issues.
In June, Johnson & Johnson and The United Nations Foundation hosted the first Dads +Social Good summit, a day-long conference that is part of the Global Moms Relay. The relay is a digital fundraising rally to raise awareness and resources for a variety of nonprofits working to improve the lives of women and children around the world.
The summit brought hundreds of influential and passionate health care and policy experts, celebrities, activists, and parents to midtown Manhattan for a day-long conversation about the role men and their families play in the world and to support the livelihood of children and the planet. It was the first time fathers got a dedicated event, following the success of Moms +SocialGood and Families +SocialGood earlier this year and in years past. If you couldn't make it or missed the livestream, here are a few highlights from the day's panels and presentations.
A Major Step Towards Progressive Parental Leave
The big news of the day came from Johnson & Johnson Executive Vice President and Chief Human Resources Officer Peter Fasolo, who used the Dads +SocialGood podium to announce that the company's already outstanding parental leave policy, which guarantees new fathers and mothers in the U.S. at least eight weeks paid leave, will now apply to its roughly 90,000 foreign employees.
"By continually raising the bar on the family benefits we offer, Johnson & Johnson is blazing a new trail for companies and working parents worldwide," Fasolo said. "Healthier employees and families create a healthier world." The move is a rare example of American leadership on parental leave issues. Hopefully, more major American companies will soon follow suit.
Breaking the Cycle of Poor Sleep and Poverty
For an audience full of parents, sleeplessness was familiar. Less so was the profound link between sleep and poverty. Legacy Pathways president Dr. Joi Spraggins discussed her research and contextualized the cycle: lack of sleep leads to poor performance in school and at work, which leads to lower socioeconomic status, which leads to environmental and cultural factors that inhibit sleep.
Christina Lee, Johnson & Johnson's principal scientist for baby R&D, added that the complex problem requires a holistic solution. But she gave a few simple interventions that can have lasting positive impact: a dedicated bed, a consistent bedtime routine, and an early bedtime. That probably goes for their parents, too.
A Little Mentoring Sparks Big Changes
One of the first morning panels discussed fathers as role models–their portrayal as such in the media and the proven positive impact of father figures and mentors. According to Carlos Lejnieks, CEO of Big Brothers Big Sisters of Essex, Hudson & Union Counties, a few hours of mentorship a week can help reverse disturbing trends like private prison companies using kids' demographic information and reading scores to plot their pipeline to jail. "This is not an inevitability. We can make the American promise more real to our kids with positive adult mentors investing in their lives and structuring programs to build pathways towards success."
Women's Equality Starts With the Men in Their Lives
Fathers today are more involved parents than ever, and that includes empowering their daughters. Still, there's much work to be done before girls can believe in a future where they're truly equal. Writer Christopher Persley and photographer Nigel Barker discussed how they stand up for that future. Persley stressed the value of attaching faces and stories to data, and empowering his daughter to speak up against slights as small as kindergarten songs mentioning mommies but not daddies. Barker, who's been a Girl Up champion since the organization's beginning, quoted his seven-year-old daughter: "Daddy, we have to girl up and you have to man up."