What It Was Like to Be Raised by Comedy Legend Harold Ramis
"As a child, I never really liked 'Ghostbusters.' It wasn't a children's movie. Even as a teenager, it wasn't one of my father's films that I revisited."
by Violet Ramis Stiel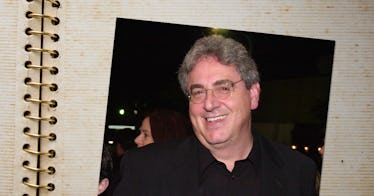 GETTY
Harold Ramis was an American actor and director. Apart from writing and starring in Ghostbusters and Ghostbusters II, Ramis either co-wrote or directed such American comedy classics such as Animal House, Caddyshack, and Analyze This. He was born in Chicago in 1944 and died there in 2014. He had four children.
I was 8 when Ghostbusters was being shot, and I was frequently on set. It was like having a hundred babysitters. I would just sort of roam around, go to the makeup trailer, and they would put mustaches on me. I would hang out with the grip or the lighting guys or the teamsters. This was before anyone was talking about work-life balance. So, people on movie sets just sort of treated me as this odd little thing, but everyone was very generous and kind and embraced me.
During the filming of Ghostbusters, I made-believe I was Eloise. My father and I were living in the Sherry Netherland, a hotel which seemed very fancy at the time, mostly because they used to have a velvet bench in the elevator. So, I pretended to be Eloise every day. But it wasn't out of the ordinary for me to be on the road with my dad. We had a very vagabond lifestyle throughout my childhood. Whether it was traveling or going on location for films or actually being on the sets. Though the Sherry Netherland was fancy, being with my dad on the set of Ghostbusters wasn't really glamorous. It was New York in the '80s. Nothing was that glamorous.
As a child, I never really liked Ghostbusters. It wasn't a children's movie. Even as a teenager, it wasn't one of my father's films that I revisited. I think that's because I had seen the inner workings; I had seen them do those scenes when they were filming near Columbus Circle so I didn't get the magic of it in the movie … I just thought, "Oh, yeah, I remember seeing the model of that ghost." Or "Oh, I talked to that extra after they finished their scene." I was a blasé kid about all those things. Then after several years and some distance and some time probably, I had a whole new appreciation for it. I thought, "No, this is really funny and original and great." And I was able to appreciate what everyone else had been so excited about all the time.
One thing that never gets mentioned is that in so many of my dad's movies, he's depicted as this guy who is sort of afraid of children. In Ghostbusters II, Egon isn't thrilled about being around the baby. And then, you've got Baby Boom, with Diane Keaton, and my dad plays this kind of uptight New Yorker who didn't want to have anything to do with a child. But that wasn't him in real life at all. He definitely had an ironic, funny approach to parenting, but he wasn't cynical. To his credit, he didn't really try to push me or pressure me to be anything other than what I liked. He thought I was funny, and he appreciated that my world was very different than the one he had grown up in. As long as I still could have the capacity for joy, it didn't necessarily have to be about things he was interested in.
We always liked to go to the movies and watched movies together. We would rent the videos every Friday for the weekend. I'd sort of, as many kids do, obsessively watch them over and over again. So I was really into Coal Miner's Daughter when I was little. And I would run around with my hairbrush singing country music. He loved that for a while, but after a few weeks, he was like, "Okay, enough with the Loretta Lynn." It wasn't mean or anything, but I always knew what his preferences were.
What I love about all of his films is he really put his heart and soul into everything he did. When I watch them now, I see such bright flashes of his intellect and personality and humor. And that's a great way to still be able to tap into his spirit and energy. He always maintained a sense of wonder for the world. And, as a child, I didn't have that as much. I had such a full life crammed into the first eight years that I developed a sort of "been there done that" mentality. By rewatching my dad's work, I get to rediscover that wonder, now as a grown-up. Years after his death, I still go to the movies with my dad and I still learn from him.
Violet Ramis Stiel is the author of Ghostbuster's Daughter: Life With My Dad, Harold Remis. She lives in New York City with her husband and their six children.
This article was originally published on