Cara Delevingne Is Advocating for Girls Around the World Through Girl Up
From model to actor to advocate — Cara Delevigne on why every girl deserves an opportunity.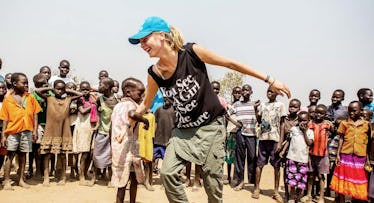 Every time you like and share this post, Johnson & Johnson will donate $1 (per social action), up to $500,000, via the Global Moms Relay to help improve the health and well-being of families worldwide in support of Shot@Life, UNFPA, Girl Up, UNICEF USA, and Nothing But Nets.
Cara Delevingne visited schools and refugee camps in Uganda with Girl Up earlier this year.
I want every family to be happy. I want every family to feel secure. I want every family to feel love. I want every family to have shelter. I want every family to have whatever they have ever wanted and needed in life.
My main hope for girls is that they are treated with the same love and respect and kindness and dignity that every human should get, no matter whether they're old, young, boy, girl whatever they want to label themselves as!
I want every girl to have opportunities, all the opportunities in the world: to have access to those opportunities, to have a voice, to have strength, to have support to have love, and to have happiness. I hope every girl will have freedom, and find courage. I hope she has the right to say no, the right to say yes. I hope every girl will have the knowledge that whatever they set their heart and minds on, that they can do anything that they want.
When the girls we've been meeting in Uganda saw our "You see a girl, I see the future" T-shirts, their faces lit up and that's exactly how I felt when I first saw it because that is what the future needs. That is what this world needs.
Cara Delevingne is one of the most recognizable faces in the world. In addition to her huge successes in fashion, she has a burgeoning and exciting acting career. She is also an influential voice in the world of social media, amassing more than thirty million followers to her Instagram.
In 2012, Delevingne made her film debut in Joe Wright's "Anna Karenina" alongside Keira Knightley. Most recently, she was seen alongside Will Smith, Margot Robbie, Jared Leto, and Viola Davis in DC Comics' "Suicide Squad." In 2017, she will be seen opposite Dane Dehaan in Luc Besson's "Valérian and the City of a Thousand Planets" and in Justin Chadwick's "Tulip Fever" alongside Alicia Vikander, Judi Dench, Christoph Waltz, and Jack O'Connell.
Previously, Delevingne was seen in "Paper Towns" opposite Nat Wolff; Michael Winterbottom's "The Face of an Angel," which premiered at the Toronto Film Festival last September, starring Kate Beckinsale and Daniel Bruhl; Joe Wright's "Pan" starring Hugh Jackman, Amanda Seyfried, Rooney Mara, and Garrett Hedland; and Matthew Cullen's "London Fields" with Billy Bob Thornton, Jim Sturgess, Amber Heard, and Johnny Depp.
With her true British style, classic beauty, and inimitable attitude, Cara's rise has been meteoric. She has been the face of Burberry advertising for several seasons, working with Mario Testino, and starring with Eddie Redmayne, Jourdan Dunn, and Edie Campbell.
In her personal time, Cara is an accomplished singer and drummer and also has a passion for craft, technology, and design.
You share, they give: Each time you 'like' or share this post via the social media icons on this post, watch this video or comment below, Johnson & Johnson will donate $1 (per social action), up to $500,000 divided equally between Shot@Life, UNFPA, Girl Up, UNICEF USA and Nothing But Nets. The Global Moms Relay was created by the United Nations Foundation and Johnson & Johnson with support from BabyCenter, Fatherly, Global Citizen, and Charity Miles to help improve the lives of families around the globe. Share this post with the hashtags #GlobalMoms and #JNJ, and visit GlobalMomsRelay.org to learn more.
You can also use the Donate A Photo* app and Johnson & Johnson will donate $1 up to $40,000 per cause when you upload a photo for Shot@Life, UNFPA, Girl Up, UNICEF USA or Nothing But Nets, to a maximum total of $200,000. You can help make a difference in seconds with the click of your mouse or snap of your smart phone.
* via the Donate A Photo app for iOS and Android. Johnson & Johnson has curated a list of trusted causes, and you can donate a photo to one cause, once a day. Each cause will appear in the app until it reaches its goal, or the donation period ends. If the goal isn't reached, the cause will still get a minimum donation.
This article was originally published on