Anti-Bias Reading Activities for Kids Ages 0-5
How to explore the world through books.
by Fatherly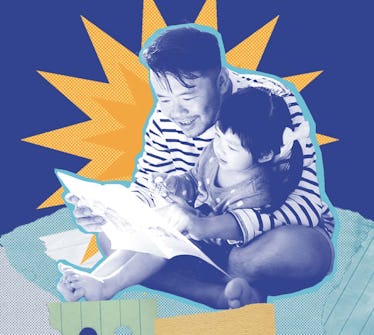 This story is part of From The Start: A Parent's Guide to Talking About Racial Bias, a series created in partnership with Johnson's®, Aveeno® Baby, and Desitin®. We're here to help parents tackle the difficult task of talking to their kids about race. With a topic this big, it can be hard to even know where to start — so we've teamed up with experts who have real answers to parents' questions.
The tale of Cinderella is known throughout the world — but the story isn't the same everywhere. It has beenadapted around the globe — with variations rooted in Asia, Africa, the Caribbean, and even Indigenous America. To gather these different variations and present them to your kids is, well, fun. It's also a way to dive into comparative literature, offering up a fascinating understanding of cultures, characters, and customs. Not bad for a Pre-K book. Reading with kids is one of the best ways to help them explore the world and learn their limitations. But to teach them to be empathetic citizens who know their biases takes more than a well-curated selection of books overtly dealing with race and anti-bias behavior. It means embracing reading as an active endeavor: Answering questions, supplementing themes, and ensuring a child's understanding of the things that make us the same and what makes us unique are all causes for celebration. Here are a few expertly curated reading activities to help foster cultural curiosity, a sense of inclusion as well as the confidence to stand up to bias in the world.
Ages 0-1: Fill storytime with color
For most parents storytime is a sacred time. It's an important bonding opportunity for parents and infants. However with the right intentions storytime is also an excellent opportunity to introduce early concepts of diversity. The books parents expose children to can help foster a sense of inclusion at an age when even the ability to walk comes after the brain has already begun to process racial differences.It's as easy as choosing picture books that feature a wide array of backgrounds and races represented; Different cultural dress, and environments, foods, colors and customs. But that doesn't mean you need to ditch goofy animals or talking trains: It just means creating a reading list where actual faces are as diverse as that in the world around you.
Many books' narratives also include primer words that help seed future conversations about inclusion. By the time they're 1, a toddler might not be saying much, but their understanding of language is considerably more robust than their vocabulary. How you curate storytime seeds that vocabulary with helpful, simple words and concepts that will become invaluable in future lessons about equality and race.
Ages 1-2: Group similarities and themes
For most 1 to 2-year-olds, reading comprehension is relatively surface level, but they'll begin recognizing and naming images, memorizing and reciting words in their favorite books, and making up their own silly stories. This is a good time to introduce grouping games to a toddler's reading time. For example, print out pictures of children and adults. With guidance, have the child place the photos on pieces of paper labeled "baby," "mom," or "dad," laying the groundwork for some sight words while demonstrating that people of different colors and backgrounds can still be the same.This is also the time when a child will ask seemingly endless questions. Choose books that feature diverse characters involved in simple stories, and answer questions frankly. Providing an answer — especially to a question of fairness or inequity — shows that asking questions can offer insight. And reading thematically similar books with characters of different races will help them see that regardless of appearances, we all have shared experiences that present the same questions.
Ages 3-4: Parallel storytelling and fairness
"That's not fair" is a phrase repeated by preschoolers all the time. But a child raising issues of fairness provides a unique opportunity to teach kids to stand up to bias and injustice. Plus, it means a parent can turn the tables on kids in terms of endless questioning. Find books in which a character is treated unfairly (basically, every children's book, ever). Every time something's unjust, ask, "Is that fair?" Tell them to point it out when a character experiences something unjust. Then question whether it's ever okay to treat a person the way a character's being treated. Whether it's a storybook about a unicorn discriminated against because of their horn, or a book about being treated poorly for wearing a hijab, they'll find ways to actively call out bias on the page, and presumably in the classroom.
Ages 4-5: Supplemental reading and identity building
At the age when many children's reading skills achieve liftoff, parents can use their emergent interest in words to build a less biased and more inclusive vocabulary while engaging in a child's sense of self and the world around them. One way to help them see similarities between themselves and people of varying backgrounds involves simple word association. Print and cut out a series of simple adjectives — beautiful, smart, strong, shy, etc. — and ask them to place the words next to a picture of themself. Then have them do the same with photos of friends (or from books) and see which words match. Discuss both the similarities and differences.
This is also an ideal time to zero in on supplemental reading. Every kid will discover a pop-culture obsession, and parents can use this to teach open-mindedness and curiosity while fostering an unbiased worldview, particularly when the entertainment features characters outside the child's racial demographic.Has your non-Hispanic child become obsessed with Coco? This is a great time to load them up with stories about the history of Dia de Los Muertos and other Mexican customs. Has Over the Moon been streaming endlessly during the pandemic? Now is the perfect time to hit the library for books about different Southeast Asian harvest festivals — pair them with a cookbook on how to make mooncakes while you're at it. A kid suddenly obsessed with superheroes will be endlessly excited to transition a love of Black Panther away from the screen and into storytimes that include African folklore. Moreover, kids whose obsessions go beyond pop culture and into a more robust understanding of the influences onscreen are more likely to approach cultures outside of their own with healthy curiosity, warmth, and open arms. They will also be ready to continue that curiosity through books.
For more stories, videos, and information on talking to our kids about race, click here.
This article was originally published on