What My Absentee Dad Taught Me About Parenting
My dad was in and out of my life. I learned not to rely on him. Then he was gone forever.
by Miguel Guadalupe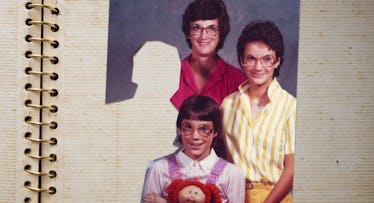 Flickr/jenniferboyer
July 4th weekend always coincides with my daughter's birthday, which makes for double the celebration and lots of fireworks. But in the early hours of her 2nd birthday, I was awoken by a phone call. It was my half-sister. My father had died.
"What happened?" My wife asked, concerned. She knew what early morning phone calls meant. We have a big family and she'd fielded a few herself.
"My father died," I told her.
"What do you want to do?" She asked.
"We have people coming today for the birthday," I said. "I gotta set up the bounce house, and I have to go BJs for the BBQ stuff. We can't cancel her party. I'll deal with it later."
Looking back, I was probably in shock, hence my matter of fact response. My wife asked me if I was sure, of course. But I got up, and began my day.
I am my father's son. I bear a striking resemblance to him and have his name. But that is the only way that I am his son. He did not raise me. In fact, when I was born, he gave my mother the wrong last name for my birth certificate. She had to do research to find the right name.
Growing up, I rarely saw my father. My mom took him to court for child support so I heard about him. After that, once or twice a year he would show up, usually around Father's Day, and again later in the summer. He'd round me up with my various half-siblings, and we'd have an outing. He wasn't cruel, or mean, or even remotely distempered. Actually, he was quite charming. That was his thing. That's why he never settled down or became reliable. There were many weekends I was left waiting for him to stop by. He wouldn't show. After a while, my mother stopped telling me he was coming.
During that time. I had my own issues to contend with. I hit puberty. I had a cruel stepfather. I worried about fitting in and about girls (generally, not specifically for the most part). I began to cope with his absence the only way I knew how: I forgot about him. When he showed up, I was surprised and happy for him to be there. On rare occasions, I stayed at his apartment. But between those times, he would disappear. We didn't have cell phones then, or email, or Facebook. He would never be at a job long enough for me to remember the number. I would just live my life until he popped up again.
When I became an adult, he started to show up for the big stuff. My college going away party. My graduation. My wedding. Always unannounced. Always a surprise. And, for those events, I was usually so overwhelmed with the event itself that I never got a chance to spend time with him. Afterwards, he'd disappear.
Years down the line, I found out from my half sister that he was sick. She had discovered that our father had been in a long-term care facility for over a year. He had had multiple strokes, and was suffering from early onset Alzheimer's. We went to see him. When the nurses saw us, they couldn't believe that their patient, who'd they'd been caring for for months, had an actual family.
We hadn't known that he was in the facility, because the woman he had been living with at the time had committed him without anyone's knowledge. She had disappeared herself. Seems she no longer wanted to deal with the responsibility. The irony of his being abandoned by his partner when he most needed one was not lost on me.
We'd visit him occasionally. My older half-sister took on the decision-making role. She was advised that he was deteriorating, and that he'd be better cared for at a hospice, and so he was moved. We visited him there as well. And ultimately, we waited.
The summer began, and I was a new father, celebrating the second full year of my beautiful daughter. I had forgotten again about my father, as my attention focused on my own family. And then I got the call.
I've had ten years to think about his death, and about the years that came before it. Sometimes I thought about the way that I reacted to his death. Was I cold-hearted? Callous in my feelings? Was I angry with him, for all those years of absence, that I purposely closed off my feelings? Perhaps.
Perhaps it was just July 4th. Perhaps I was busy living a life and being there for my kid. Perhaps I had overcorrected, having seen the sins of the father. I know that a lot of my choices are made in part because I saw him make other choices. I choose my kids over everything. I make sure they know they can count on me and, more importantly, they can actually count on me.
What that means is, effectively, that I put them first even when I have to deal with stuff in my own life. And that included the death of my father. When you have little kids, the celebration is the priority. The fireworks are the priority. The new memories are the priority. The old memories and the bad memories can wait. Why? Because I want to make sure that my kids can never forget about me in the way I let myself forget about my own father.
This article was originally published on