Abriendo Oportunidades Program Mentors Share Their Goals for Girls Around the World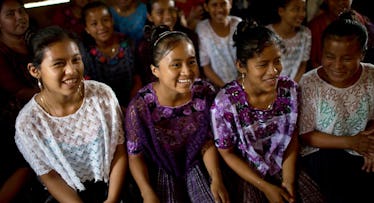 Every time you like and share this post, Johnson & Johnson will donate $1 (per social action), up to $500,000, via the Global Moms Relay to help improve the health and well-being of families worldwide in support of Shot@Life, UNFPA, Girl Up, UNICEF USA, and Nothing But Nets.
Elvira, Cecilia, Modesta, and Susana are community leaders and mentors through the Abriendo Oportunidades program, led by UNFPA and supported by Girl Up in Guatemala. They share their hopes and visions for families and girls in the Chisec, Alta Verapaz.
Susana Mó
What I want these girls to accomplish is success, to continue to study, and to not get married at an early age. Young girls do not have the ability to take care of a younger girl, as they are girls themselves. So that's what I want for them, to continue their studies and succeed in their futures and to have a good family for themselves.
Elvira Margarita Cuc Cho
I want girls to continue to study and to finish their studies since a lot of times they don't get to their sixth year in primary school. What we want more of is a way of thinking where girls are determined to study, to have a future, and to wait and not get married at an early age. We also want them to have a space like this program Abriendo Oportunidades, or others, so girls can strengthen their abilities.
Modesta Ical
As mentors, we have to help girls so they can succeed. If we don't have support, girls can't succeed. And for the parents, we have to support them in this aspect so parents can send girls forward.
Cecilia Toc
I felt very proud of a girl who, about two years ago, stopped studying. One of the activities we do as mentors is plan out our lives. The girl constructed her life plan. She asked me, "What goes here?" I explained to her that the section was about school, and she said, "But I'm not going to school." So I asked, "What plans do you have in the future? Are you going to continue like this or what is your goal?" And she told me, "My father doesn't have enough resources to keep me in school." I encouraged her and insisted that she continue her studies, and she was one of the adolescents who received a bicycle. She feels very happy that the program supported her and motivated her to study. That is what we (mentors) want for all girls.
Elvira, Cecilia, Modesta and Susana are community leaders and mentors through the Abriendo Oportunidades program, led by UNFPAand supported by Girl Up in Guatemala.
Abriendo Oportunidades is Population Council's program for young indigenous women ages of 8 to 17 in rural Guatemala. The objective of the program is to share important topics and skills, such as self-esteem building, reproductive health information and women's rights, through weekly girls' clubs within the community.
Each club has a lideresa from the same community that is chosen by Population Council to receive training and serve as a leader and teacher for girls in her own community. Every lideresa has a mentor as well, creating a support network for the both the girls and their leaders in each club.
The program also offers one-year internships to young women with local social institutions such as DEMI, CICAM, Child Aid andEcofiltro.
This article was originally published on